Blue Fire was created by crossing two our most sought after strains: Blue Dream and Fire OG bx1. The resulting hybrid is an awe-inspiring strain that impresses with her top-shelf crops and a delicious berry aroma. An absolute gem every cannabis grower should try at least once. In this post, Stoney Tark gives us the lowdown on how to grow this amazing strain and what to expect from her crops.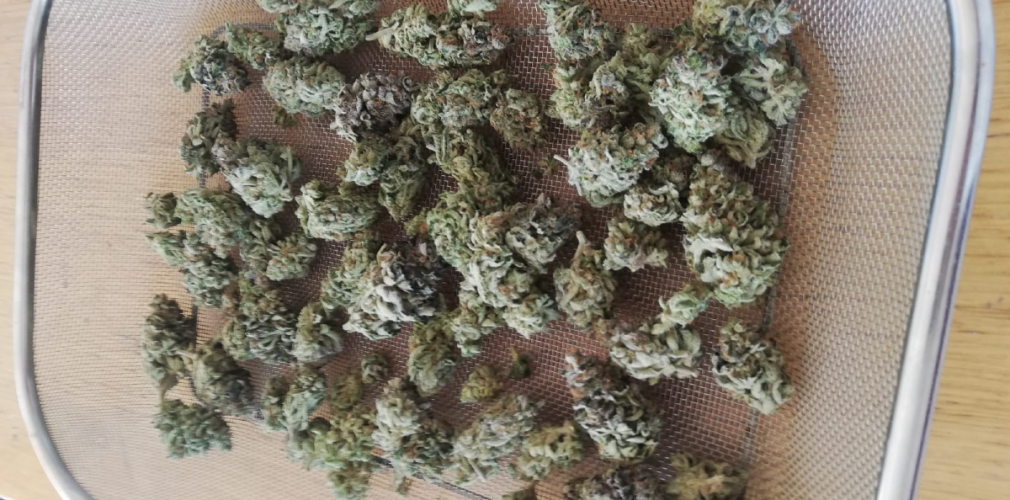 Lineage: Blue Dream x Fire O.G BX1
Grown: Indoors under SANlight LED (Generation 2 Q5 Series)
Medium: Coco and hydroton (50/50)
Nutrients: GHE Flora Nova Grow + Bloom, HESI multivit, HESI Powerzyme
Pot Size: 30L felt pot
Growth Time on 18/6: 28 days
Flowering Time on 12/12: 73 days
I received a pack of 3 feminized Blue Fire Seeds and could not wait to get them started. The genetics are Blue Dream known for its delicious fruity flavours, and epic yields crossed with a Fire OG BX1. As a fan of fruity, gassy and pungent strains this lady ticks all the boxes, so I don't waste any time getting one of the seeds straight into a glass of water. The plan is to grow one plant in a 30 litre felt pot filled with a mixture of coco and hydroton. Grown indoors under SANlight LED, feeding GHE Flora Nova Grow + Bloom with HESI Supervit and HESI Powerzyme.
Grow Phase - 18/6
Within a couple of days the seed had germinated in a glass of water, with a healthy long white tail sprouting out. I decided to carefully transplant into my 30 litre pot filled with coco and hydroton and now will wait for the seedling to sprout. The temperature in the grow room is 24 degrees with 70% humidity. For the first 2 weeks, the seedling will be left alone to grow before topping the plant once later. She is certainly displaying indica dominant characteristics, and although she is a 60% indica / 40 sativa mix, from the early stages I see an OG Kush dominance in the growth structure.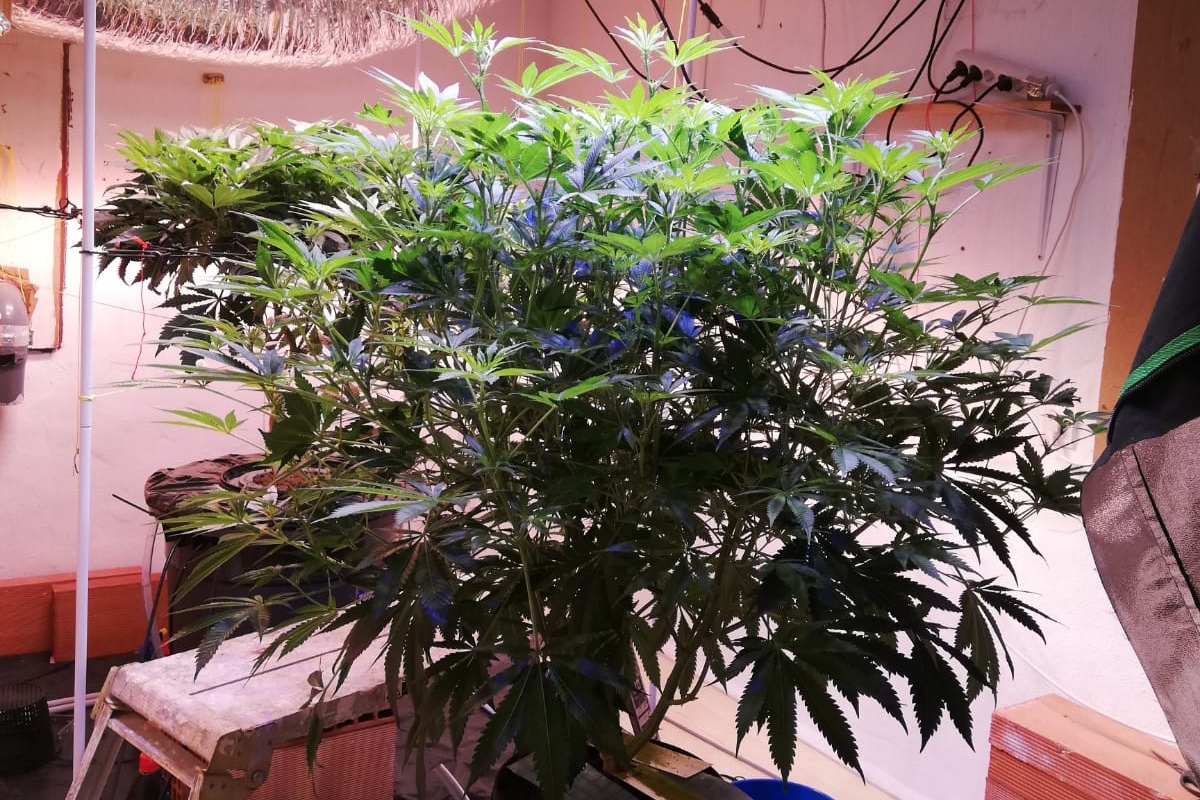 After 14 days, she has grown very quickly compared to the other strains in the grow room, and is already 15cm tall. HSO does recommend a short growing period, as this strain is a fast growing hybrid, so in this case I decide to grow her for a maximum of 4 weeks. After feeding with a nutrient solution of 0.6ml per litre, add 3 drops of Hesivit and 5ml per litre of Powerzyme, I see that this strain is a heavy feeder and is growing totally lush with a thick trunk forming.
Her height is now 26cm tall after day 22 with her leaves praying upwards. She is on her 4th internode and is growing with an indica appearance, with short, fat fan leaves. At this point I decide to tie the top shoot down in order to let the inner parts of the plant receive more direct light. This will also allow me to reduce the final plant height, and increase yields at the same time. It is during this time I also break the inner parts of the stem and side branches. The nutrient solution is increased to 2.5ml per litre of Flora Nova Grow and the plant seems to love it. There are zero signs of any deficiency, and from what I can see, the roots are already popping out of the bottom of the felt pots. So far I notice this cultivar has excellent rooting ability, a very thick main trunk and bright green growth.
Day 28 and the plant has taken on a very bushy appearance, after the tying down. I am interested to see how much of the Blue Dream lineage comes through, as at this moment the appearance is short, compact and bushy. A final stem rub before flowering reveals a fruity, earthy, sweet hash aroma with a wet bleach overtone. She smells like she is going to be a serious terp monster and packed full of flavour.
The final height prior to flowering is 42cm with a dense structure and a very fat main stem and side branching.
Flowering Stage - 12/12
After switching my timer to 12/12 and make sure my humidity levels are at the 50% mark. As they transition to flower, it is important to gradually shift humidity from 70% down to 35%. I also feed the same nutrient used during 18/6 for the next 2 weeks, before feeding 5ml per litre of Flora Nova Bloom.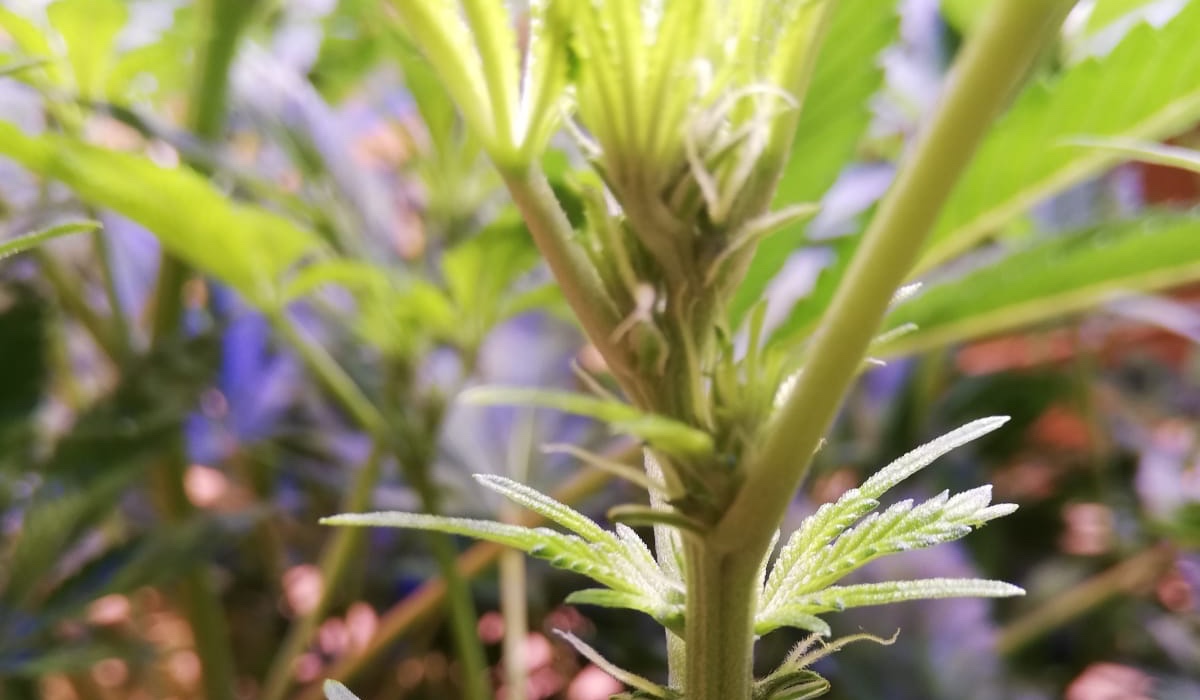 Day 15 of flower and the internodal spacing has stretched quite a lot and there is an abundance of new shoots emerging. The height is 67.5cm and I expect it to keep stretching for another week more. The trunk is really fat and thick and from the look of things, she will be a big feeder over the next 8 weeks.
By day 21, she has shot up to a height of 81cm with a lateral width of 63cm and is really filling out the grow space. After the super cropping during 18/6, the side branches are thick, lumpy and very strong looking. In terms of appearance, this pheno is certainly more Fire O.G dominant. The fan leaves and new growth all have strong indica characteristics, giving her a long cola appearance. I did need to prune some fan leaves away as they were blocking the lowest shoots, however will do no more pruning or training and will leave to flower. There are an abundance of white, fuzzy pistils bursting out from every internode.
After 30 day of flower, the rate of growth is extremely fast and her structure is really filling out well. Every internodal space is packed from top to bottom, meaning when she flowers it will mainly have one long cola per branch. I drop my humidity to 37% and will maintain it here now or the duration of the flowering period. Temperatures are 23.2 degrees Celsius but I am more than happy considering a dehumidifier is being used. My nutrients solution increases to 5ml per litre of Flora Nova Bloom, 3 drops of Hesivit and 5ml per litre of Powerzyme. The buds are starting to form nicely as well as the resin growing on all the leaves, by day 35.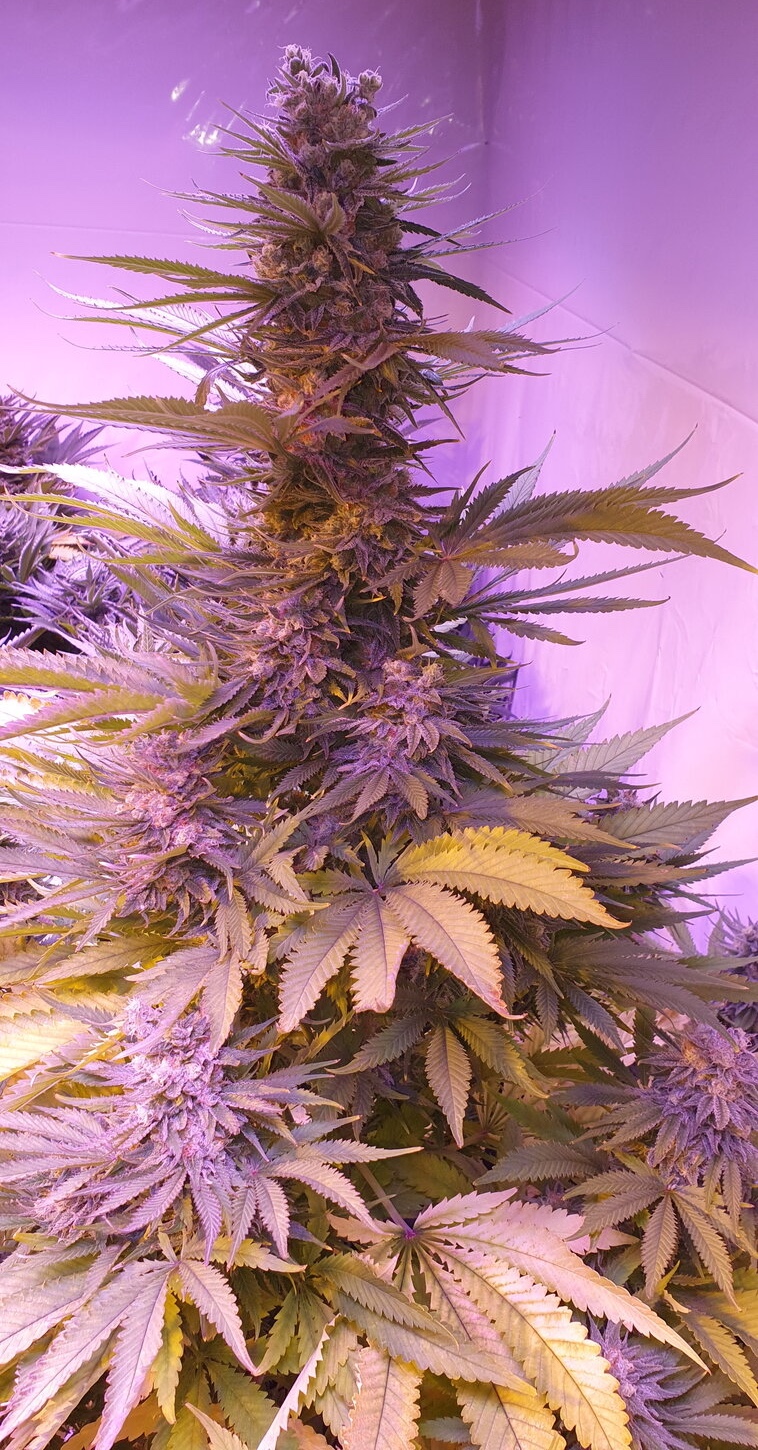 The structure looks dense, and tightly compact giving the plant a sativa appearance in regards to long elongated buds. A quick rub of the forming buds reveals a very dank citrus, gas with a minty blueberry. The smell is incredible and something I have not personally encountered before. Now I am half way through the recommended flowering period and will stop feeding nutrients for the last 2 weeks.
The rate of bud development is staggering by day 42, and all the signs of a big yielding, trichome heavy, terpene rich strain are there. She has a really fat stem and stacked internodes and has no signs of deficiency whatsoever. The buds are very sticky to touch and leave an oily resin on the finger tips that smells heavenly. There is a real distinct blueberry with a menthol aroma, that has a gassy citrus edge. There is a wild amount of resin forming and I am excited to make hash with this cultivar as she is frosted from head to toe.
Day 50 and the buds are swelling up, with bright lime green hues, and tightly packed leaves covered in resin. The appearance is solid, with hard to squeeze nugs that look characteristic of Kush and have the most mouth-watering terp profile. The temperature and humidity is perfect at 24.2 degrees Celsisus and 36% humidity. I will now feed only plain water and Powerzyme enzyme at 5ml per litre for the next 2 weeks. In order to improve the flavour and quality of smoke, it is important that during the flush, all of the reserve nutrients are used up, including any undissolved salts that have built up over time. The buds are getting fat, bulky and swelling up with some bright orange hairs wrapping around.
After 65 days, she is very close now to the recommended harvest date of 70 days. A massive yielding plant with tons of trichomes and there will not be any wasted trim material. Her buds are rock hard now and can be squeezed with force. Every single branch is clustered with golf ball sized buds that have become so swollen and stacked. I decided to let the plants dry out for the next 3 days before finally harvesting, taking the total flowering time to 73 days. When hanging her up, I can definitely feel the weight considering she is only 94cm tall. The aroma in the dry tent smells pungent, dnk, fuel, gassy and fruity sweet, with blueberry floral notes.
Flavour and Effect
After drying for 15 days at 50% humidity and 15 degrees Celsius, the buds are totally dry and ready to be cured. The flowers reek of Kush, lemon and a berry funk and when broken open have a pungent earthy hash scent. The effects are instant and very potent, and reminds me of getting blasted by a good solid OG Kush. There are some waves of creativity but the overall effects are couch locking, and the taste is just sensational all the way down to the filter.