Three Blue Kings is one of the best indicas ever created in the USA, a cross of some of the most legendary Californian strains that stands out for the quality of its crops. In this grow report, Stoney Tark talks about his experience growing this champ plant and gives us some clues about what to expect from the final product.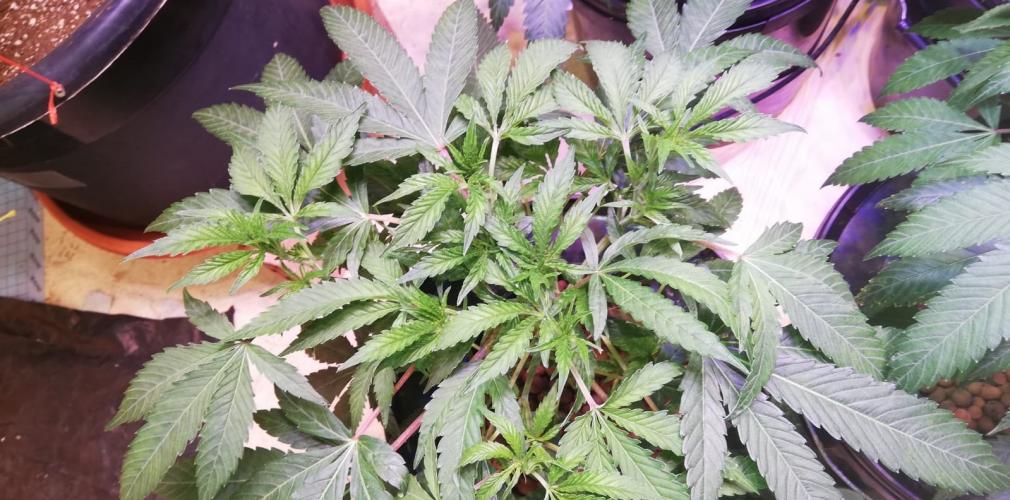 Lineage: Blue Dream x Three Kings
Grown: Indoors under SANlight LED (Generation 2 Q5 Series)
Medium: Coco
Nutrients: House & Garden Aqua Flakes + Multizyme
Pot Size: 30L felt pot
Growth Time on 18/6: 37 days
Flowering Time on 12/12: 67 days
After being sent a pack of Three Blue Kings feminized, I germinate my seeds in wet toilet tissue and placed in a dark saucer. Within 24 hours the seed had sprouted and a long tap root had made its way out onto the tissue. I am excited to grow out this hybrid which consists of Headband x Sour Diesel x O.G Kush and Blue Dream, so am expecting a big yielding lady with an extra pungent and loud terpene profile.
My plan is to grow one larged-sized plant that will be grown in the vegetative stage for 5 weeks. She will be planted into a 30-litre felt pot with only coco inside, and hand watered with a hydroponic nutrient solution every 48 hours. My E.C will range from 0.6 and I will work my way up to 1.8 later in the flowering stage.
Grow phase - 18/6
After transplanting the germinated seed, I leave to grow under my SANlight LED for 18 hours a day with 6 hours darkness. For the first 7 days, they will be hand watered accordingly and once they reach a certain height will be topped and trained.
So far she is growing with a healthy green glow, and shorter indica dominant fan leaves. By day 10 she is already 6.5cm tall, so once I hit the 14-day mark, I will remove the top shoot leaving the axillary shoots behind. This technique will increase the number of top colas the plant produces, as well as reduce final height once the stretching period ends.
Day 21 and she has reacted well to the pinching out and has really pushed her side branches out. The internodal spacing is not growing too closely together, so it looks like she will be a great candidate for plant training. I notice her main stem is growing thick and wide and she currently has a short, but stocky appearance with all leaves praying up towards the light. Measuring at 27cm tall with a stacked appearance.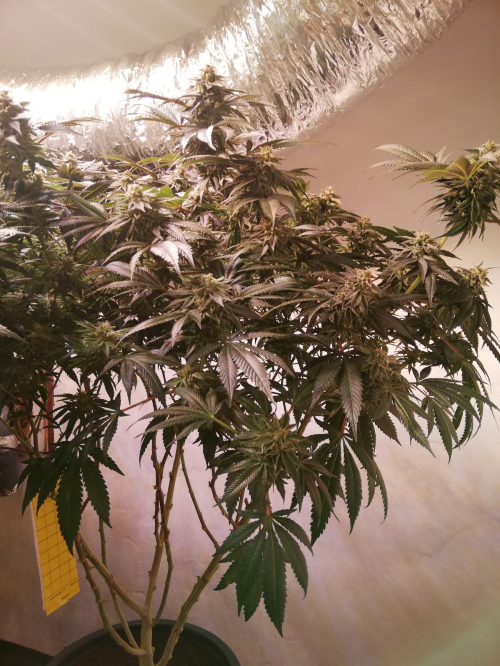 By day 25, this girl now has a very bushy appearance and is time for a super cropping. As I squeeze each part of the main stem between internodes, using pressure with my fingers and thumb, she gives a popping sensation and releases a very gassy fragrance onto my fingers. I will give her one week to recover before treating to a pruning prior to flowering. So far this strain is growing very quickly and seems to be drinking the nutrients much faster than the other strains that are growing in the tent next to her. As I reach day 30, and notice the super cropping went well and there are already noticeable knuckle formations happening on each part of the main stem. This lady seems to be a tough, resilient plant which is always a good thing. Her height has shot up considerably measuring at 54cm, with wide fingered fan leaves bulging out from all directions.
Now by taking a sterile razor blade, I begin to prune the lower parts of the plant and any small soft wood shoots and fan leaves. This does not take long and after taking the cuttings away to root for a future project, I now leave for the next week until the plant has fully established itself again, and will not focus its energy on top heavy buds. In total I remove 60% of the entire foliage.
Flowering Stage - 12/12
After 37 days of growing in the vegetative stage, this cultivar is now ready to be flowered and to reveal what she is all about. Her main stem is very chunky and thick, so it looks like she can take on the nutrients and pack on the pounds in return. For the first 2 weeks, this girl will be left to stretch and really establish herself.
After 18 days of flowering, her height has increased by almost double and she is now easily the tallest strain in the room. I measure the height at 89cm, however thanks to the training, it is extremely bushy and wide. The air flow around the bottom of the plants is perfect and I do not need to worry about air flow issues.
By the end of week 4 she seems to have stopped stretching, with a final height of 129cm. There is a massive amount of flowering sites and from what I can see already, the resin profile is insane with this cultivar. There is an abundance of pre-flowers all tightly packed together greased in trichomes. This lady is starting to really fill out and glisten, and her aroma is becoming more distinct with the tent smelling of gas, fuel, with hints of fruit and earth.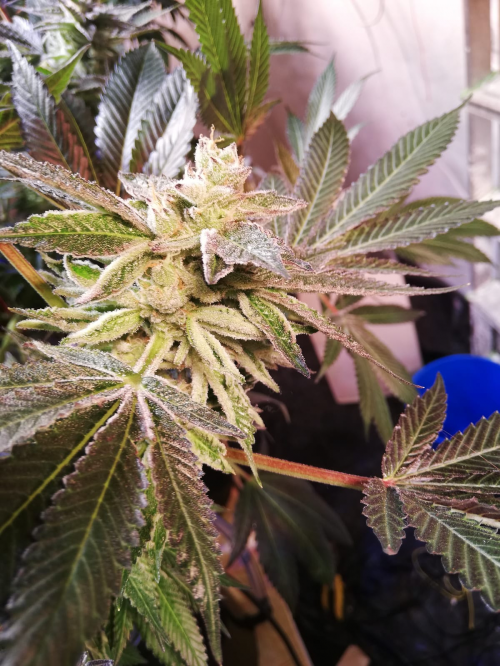 Her internodal spacing is quite big, so I imagine she has the ability to grow quite tall if left untrained. There is certainly a sativa influence in her growth structure as the buds stack up on one another, however are being produced with a chunky, indica biomass.
Day 35 and she has gone crazy with resin production and seems to have turned it up a notch. The fan leaves and surrounding leaves have begun to curl up with trichomes and completely plaster the plant with a sugary appearance. Her growth structure is wide and bushy with one huge sized top buds emerging from all directions.
The aroma in the tent is now becoming even more pungent and reminds me of old school O.G with some type of fresh berry mixed in. I really cannot wait to harvest this one and see which flavours she delivers. After day 45 this lady has really taken over the room and is a marvel to look at. She has remained a lush dark green the entire grow, without throwing out any signs of purpling up. From this point on I will begin to flush and allow a good 14 day flushing period. My nutrients change to only Multizyme and she will now only receive water with enzyme solution.
The aroma she is producing is a combination of gas, fuel, earthy and mild fruits. The one thing that really stands out is the ridiculous amount of resin produced on the surrounding leaves. The way the buds grow is similar to elongated sativa buds, with pointy tips that have swollen up to the point of complete density.
Day 60 and she looks superb, frosted to death and solid buds growing all the way up every single branch. The leaves are tightly packed between the buds and under a loupe, I notice the majority of her trichomes are cloudy silver with the odd specs of golden amber. In 7 days more she will be harvested taking her to a total of 67 days. She is a huge producer and would work extremely well in a SCROG.
On day 67 I take her out of the tent and hang the entire plant, minus the fan leaves. After 14 days she will be dry trimmed and all of that excessive sugar leaf saved for dry sifting. The drying room smells very strong with a lingering fuel dank and waves of gas.
Flavour and Effect
Her buds are huge and have serious bag appeal. Each bud is compact yet stacked with bulging frosty calyx wrapped in bright orange hairs. The aroma of a dried bud is seriously pungent and the taste is even better. Her flavour is immediate and a blend of classic creamy, buttery Kush, with overtones of Diesel and a strong earth. The effects are a nice balance of deep thinking, combined with a heavy body indica induced sensation.