To become a successful indoor grower, there is quite a checklist to cover and a big financial investment. Below is a short list of all the equipment that you will need to buy, followed by the life cycle of a Cannabis plant and top tips to reducing noise and aroma, to give you a full insight before you begin your pursuit as an indoor, organic enthusiast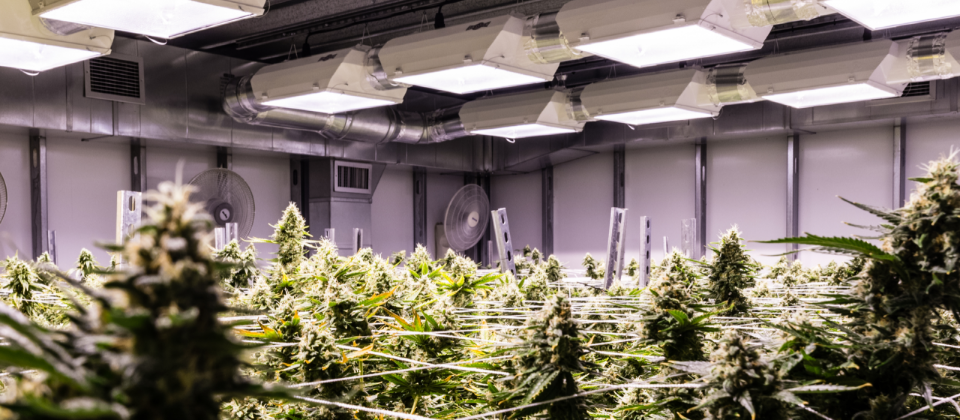 By Stoney Tark
Mylar grow tent
You will have seen grow tents before that have a solid black exterior, and the inside is lined with a highly reflective mylar. The principal of the grow tent is that is becomes a grow chamber where the amount of air exchange inside the tent is controlled by yourself. It is within the grow tent that the list below must be set up.
Horticultural Grow Light
Investing in a proper grow light that meets all your plant's requirements is well worth it. Now days there are so many manufacturers offering the latest technology, ranging for L.E.D to the more traditional H.I.D (High Intensity Discharge).
Timer
A 15-minute controlled segment timer can be used to allow you to set your grow lights to the light cycle of your choosing. The timer will ensure your plants receive adequate lighting regime and mean you do not need to physically power the lights on and off each time.
RVK Fan
This is the large sized fan that is responsible for pulling air out of the top side of the tent. The R.V.K fan should remain on 24/7 and will be connected to the carbon filter, making sure the air that is being removed is clean of any unwanted smells.
Carbon filter
A metal filter which scrubs the air with carbon, meaning the air leaving the tent is carbon fresh. You will need to connect ducting to your carbon filter and R.V.K and make sure the fit is air tight by using cable ties.
Aluminium ducting
The shiny metallic tubing that transports air inside or outside of the grow tent. All ducting should be fixed to the inside of the tent ceiling and not drooping down onto lights or plants.
Plant Pots
Once you have your grow light, out take fan and carbon filter set up in the upper part of the tent, now you can focus on the lower. You will need to invest in plant pots, and these can be basic plastic, fabric pots or specially designed air pruning pots.
Growing Medium
What you will fill your pots up with can range from traditional soil to a custom organic blend of your own. Consider how the growing medium will aerate as well as hold water as these are important factors.
Oscillating fans
Creating a soft gentle breeze that keeps your Cannabis plants swaying, and moving fresh air around the plants is essential. Using oscillating fans that are spinning at different times from one another is a great way to keep the air flow perfect.
The life cycle of a cannabis plant
For those who are new to growing cannabis, having a basic understanding of how a cannabis plant functions, will be a great starting point to indoor growing. Below is better explained the life cycle of a cannabis plant and what each light regime means.
The vegetative growth stage
Once you have germinated your seedlings and planted them into your growing medium, the next step is to mimic the long days that occur during the Spring to Summer months. During this time of the year the number of hours of daylight will increase, as well as humidity levels.
Naturally during Spring time, the air has a higher humidity which is what encourages new growth. This is the beginning of the Cannabis plant's life cycle so you will need to set the timer of your grow lights on for 18 hours light / 6 hours dark.
Whilst the seedling is growing under this light cycle, it will develop into a bushy plant that will only focus on developing a strong root base, stems and leaves. It is during the vegetative stage that Cannabis plants prefer a base feed that is higher in Nitrogen. Most nutrient companies will offer a product for the growth stage that will contain more Nitrogen than the flowering stage.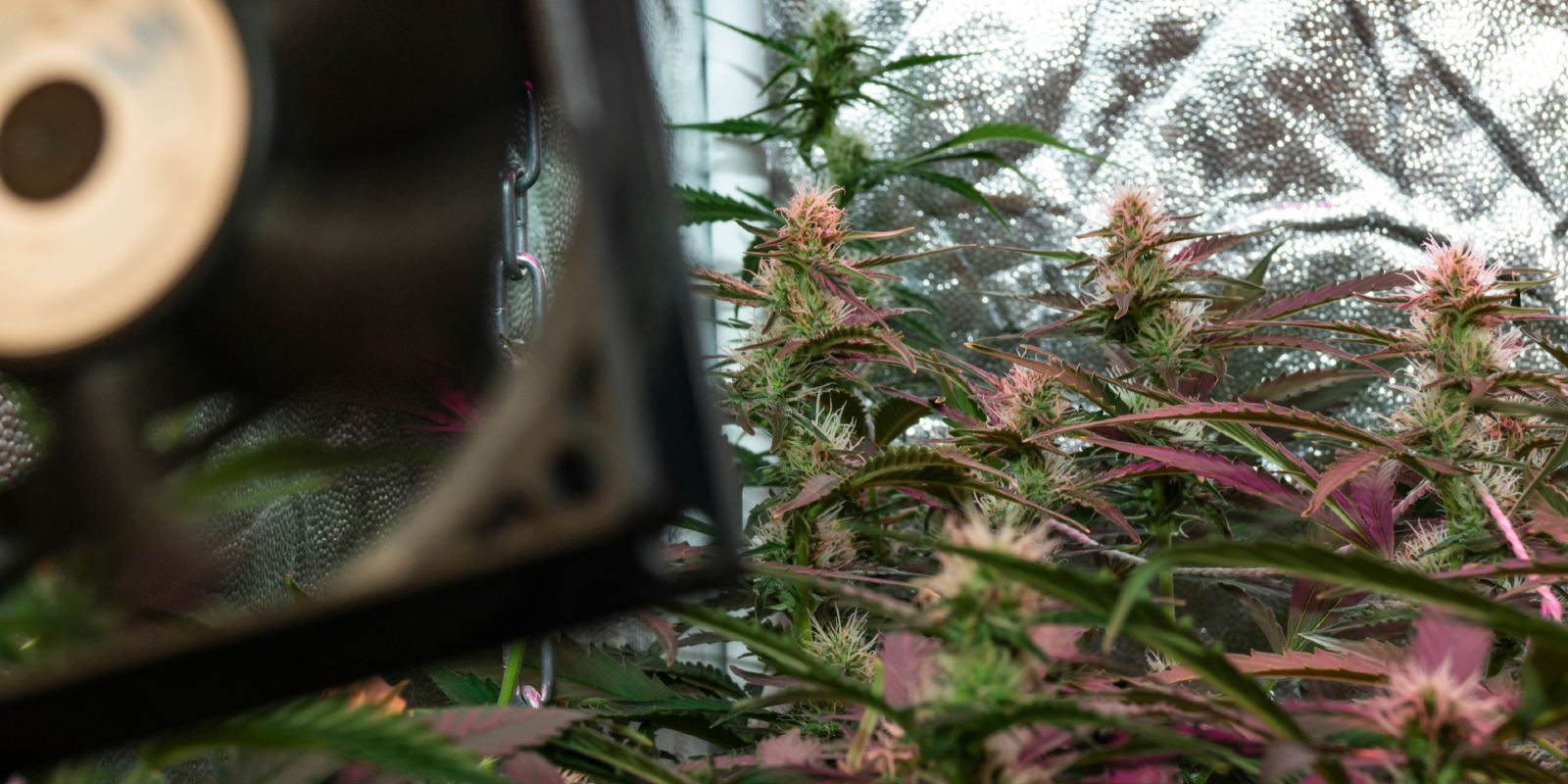 How long is a good time to grow under 18/6?
This depends on your grow space, plant count and amount of plant training you want to apply. However, most growers like to grow Cannabis plants under 18/6 between 2-4 weeks. The longer a Cannabis plant grows in a vegetative stage, the more productive it will be when flowered.
The flowering / blooming period
You may hear this referred to as the flowering stage, or blooming phase but those simply mean when a Cannabis plant recognises the light cycle has changed and the days are becoming shorter. Now is the time to adjust your time so that you reduce 6 hours of light down to 12 hour on / 12 hours off.
The plants will respond by going through a hormonal shift, resulting in a growth spurt and an onset of flowers. It is during the flowering stage when Cannabis plants will develop buds, and it is these buds that are harvested, dried and then smoked.
How long do cannabis plants flower under 12/12?
The outcome of this will be dependent on the strain that is being grown. Generally, indica varieties will take between 7-8 weeks before harvesting, hybrids between 8-10 and sativa dominant cultivars will take 10-14 weeks. The required flowering period will be stated on the seed packet or online with the company strain info.
When is the time to harvest?
This should be based on how swollen the buds are, the resin profile and how developed the trichomes are when viewed under a microscopic lens.
6 Ways to help keep your indoor grow room silent
Every home grower needs as much luck on their side when growing Cannabis indoors. Keeping the garden as quiet and discreet as possible can be a big help when staying off the neighbours and authorities radar. Below are 6 ways to dramatically reduce the noise level from your indoor garden.
Use acoustic ducting
The cost of acoustic ducting is almost five times that of the regular aluminium ducting, however it is well worth the investment. Air blows through the ducting and creates a loud, industrial style whirring noise. By using acoustic ducting you will cut the noise of the passing air out, meaning the only thing to silence is the R.V.K fan.
Build soundproof boxes
Basically a wooden box that will house the loud R.V.K fans and stop any noise they make exiting the grow tent. Lined with the same foam found in recording studios, sound proof boxes are a great way to quieten down a powerful fan, especially if living in a residential area. They are easy to make and can be designed to fit any size of fan and ducting size.
Hanging your equipment
The use of metal chains, clips and hooks can be enough of a reason for fans to become noisy and vibrate. The usual culprit is the R.V.K exhaust fan that has been improperly hung. The way to solve this is to hang it with an elastic bungee cord securely in place, or a material that is non-metal and can absorb the reverberations created.
Attaching silencers
Silencers are fantastic at reducing noise levels down to a minimum, and can be applied to one side of an R.V.K or both for the ultimate effect. They may seem expensive to buy, yet will last a lifetime if looked after. Silencers are specially designed to control the noise levels created by passing air currents.
Passive cooled light for the win
There are lighting manufacturer such as SANlight LED who are incorporating passive cooling into their design. The upsides are no more fans to worry about breaking down, no more moving parts inside the grow light and one way to reduce heat and noise. Some models of LED still use internal fans to keep them cool.
Using a fan speed controller
Adjusting the power output and efficacy of an R.V.K fan can help control the noise to a comfortable level. A slight reduction of the fan controller will reduce the output of air, but you will be compensated with a more silent passing of air through the ducting.
The Conclusion
Spend money on buying everything from this list and you will be guaranteed a much quieter room. You only need to make the investment once and can re-use the equipment every grow, allowing you to have the ultimate peace of mind.