If you are growing for your own private use or on a large commercial scale that is a number driven project, then harvesting as frequently as possible is key. Traditionally growing indoors requires a vegging period and a flowering period combined of around 70-80 days before the crop can be harvested. Below is better explained how to harvest every 28 days and keep a highly efficient rotation indoors. To make this as easy to understand as possible we will imagine we are working with a plant count of 4 plants and the strain being grown will take 8 weeks to flower. There will be 3 separate tents used labelled as Tent 1, Tent 2 and Tent 3.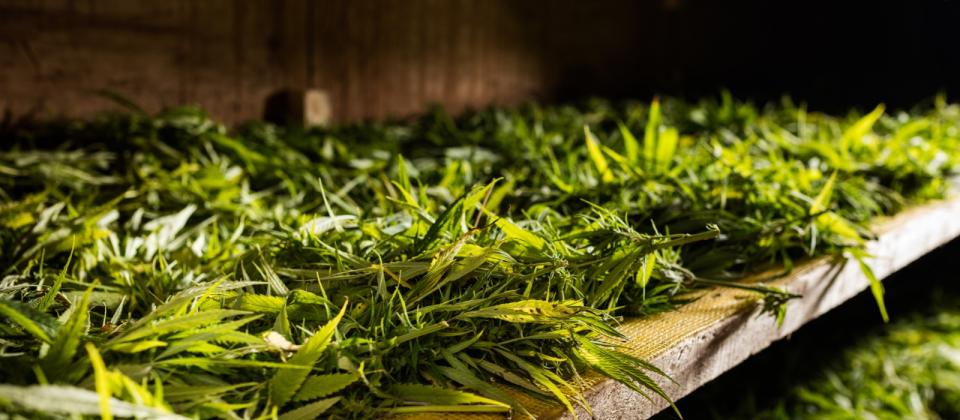 By Stoney Tark
Vegging Room - Tent 1
As far as lighting goes, the whole principal behind the vegging room is that your seedlings or clones will stay in here for exactly 4 weeks under the light schedule of 18 hours light and 6 hours dark. Meaning after 28 days, no matter what size they are you remove them from the veg room and then replace with 4 new seedlings or clones. The ideal lighting in here can be a low powered LED, fluorescent grow lamp that is 6400k blue spectrum, or a H.I.D lamp.
Regarding pot size, you will want to veg your plants into the final pots. So basically it means to decide if you will flower your plants in an 5 gallon bag (22 litres) then you will plant your seedlings or clones into the these bags and allow them to root. Repotting as you rotate them can cause them to slow down as they recover from the the re-pot. You want the plants to grow as big as possible and not just the top growth. It is essential that a rich organic medium provides beneficial life to roots allowing a robust, expansive network of root hairs to be established early on.
Your temperature needs to correlate to 24 degrees Celsius and the relative humidity should be close to 70%. An excellent way to ensure a constant environment inside your veg tent is to use a humidifier. These small low powered devices will provide a fog inside the tent that will mimic Spring weather and allow the plants to grow to the best of their ability. The first 28 days for a seedling or clone can be make or break to the end harvest, so do everything you can to make sure that the plants are more than happy in terms of their environment and nutrient availability.
Flowering Rooms - Tent 2 and Tent 3
Once the vegging room is complete, now you need to be able to create 2 flowering rooms. Now before you think this has to be a large set up and begin to cost you a lot of money, understand the rooms only need to be small enough for 4 plants. If you think of it this way and bought 3 tents all the same size and used one for vegging and the other 2 for flowering.
The flowering tents only need to have one grow light in each and be installed with small sized carbon filters and fans. When growing on a small scale with only 4 plants, then using 100mm - 125mm T.T fans with ducting and a carbon filter will be fine, and is also a cheap and quick solution to providing the ideal ventilation your tents will require and to also mask any unwanted smells.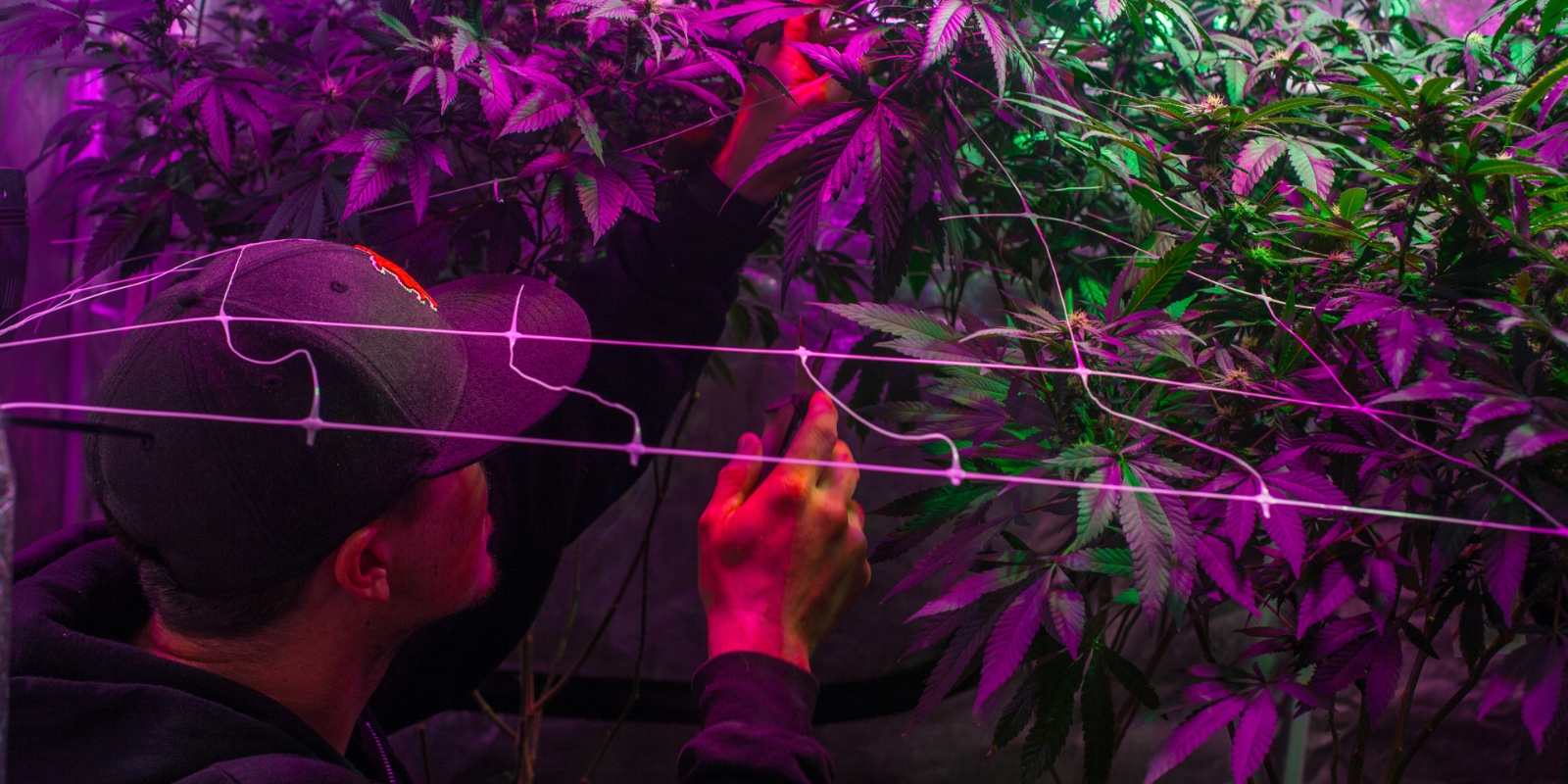 Now you have your exhaust fans and filters set up, you will want to set up your grow lights. The idea is to provide consistency in all areas, so using the same light source with the same power output is key. The reason why is that as a rotation is performed every 28 days, the yields, flower quality, aroma and resin production should be identical from both flowering tents.
You will want to your temperatures to be 24 degrees and a low humidity of 30%. Cannabis plants will perform better when the air is more dry and will also increase terpene and resin production. It is very important to make sure you have a good air flow around the plants and to make sure the humidity does not pass the 40% mark, as this can lead to pathogens forming in the grow room and attacking the plants and flowers.
The Drying Room
The drying room will be where the freshly harvested plants are left every 28 days, meaning that there is always new plants to enter the dry room every 4 weeks. Plants will take 14 days to dry out meaning that buds can now be cured for 2 weeks before being smoked. The drying room does not need to be any bigger than your current rooms but should be well ventilated and smell proof.
The Rotation
As soon as the seedlings or clones have hit the 28 day mark in Tent 1, then you will place them into Tent 2 to begin flowering.
Now you will plant new seedlings or use clones to grow 4 new plants in Tent 1 again for the next 28 days.
Once the plants in Tent 1 have grown up for 4 weeks, now is the time they are moved into Tent 3. By this point, tent 2 will have plants inside that are half way through their 8 week flowering cycle.
Plant new seedlings or use clones for Tent 1, however this time the plants in Tent 2 are now ready to harvest and be placed inside the drying room for 2 weeks.
Place the plants from Tent 1 into Tent 2 and plant new seedlings or clones again.
Repeat this process until every 4 weeks Tent 1 or Tent 2 is ready to harvest plants consistently.
Seeds or Clones?
Choosing to work with seeds or clones can be down to preference, or in some cases practicality. Depending on where you live can also dictate if you a growing with regular, femenised seeds or clones. Each have their own advantages over the over, yet using femenised seeds will ensure that your 4 plants will grow only flowers every time.
Using regular seeds is an excellent starting point, on the basis that you can take a clone of the keeper female phenotype. It is good to know that clones do not have a tap root and able to be flowered almost immediately if required. Growing seedlings will take at least 3 weeks before the plant can be flowered to produce the best sized plant.
Conclusion
What is really great about this rotation concept is how growers who are currently using 2-3 grow lights can easily implement it. The initial costs of purchasing 3 tents with exhaust fans, carbon filters and oscillating fans, is well worth the cost once you are producing a harvest every month. Not only will you recuperate your initial investment after your first few crops, you will be able to ensure that there is a final dried and cured product ready to go every month.