As Spring time approaches and we get closer to the possibility of planting this year's crop, there are many factors to consider in order for you to achieve the best harvests possible. In this article we explain what you need to know when it comes to preparing your plants outdoors, as well as our top tips and what to avoid.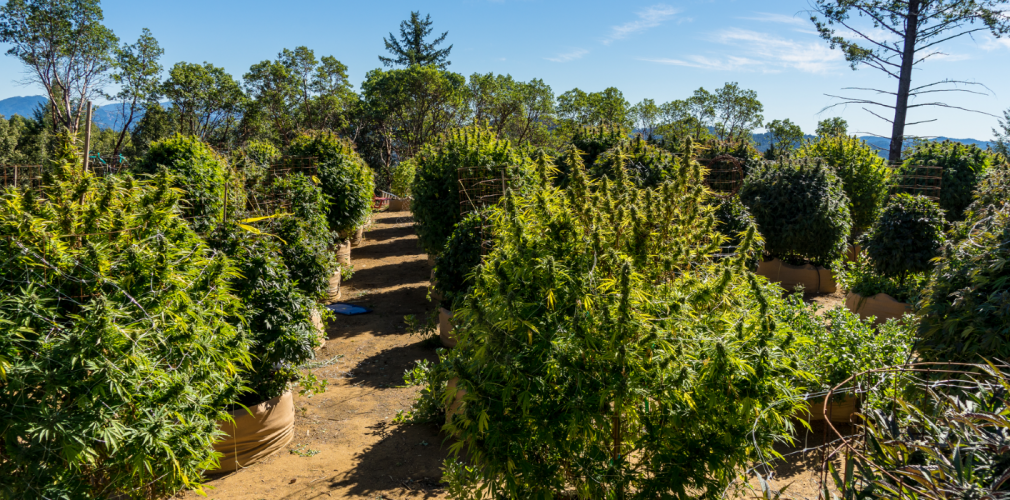 By Stoney Tark 
South facing is best
When it comes to the location, South facing is the ideal spot for your Cannabis plants to be. As the sun sets, you will be guaranteed the most direct sunlight possible and not need to worry about moving your plants around as the sun gets higher throughout the seasons.
Build a polytunnel / greenhouse and locate facing South.
It is possible to grow autoflowering strains all year long South facing.
Avoid moving the plants around if in pots and keep in one final location.
Plant Into The Ground
Many growers enjoy planting their seedlings directly into a large soil bed, or into the earth. Once the roots have established themselves into the soil, they will now work in harmony with the beneficial microorganisms that exist in the soil, forming a symbiotic relationship. If you are thinking of planting directly into the ground then you should consider the following:
The soil is good quality and has the ideal texture.
The aroma of the soil is more earthy, sweet and fresh smelling.
Signs of worms inside the soil is a great sign and should be kept in.
The drainage should be highly efficient and not water log easily.
Dig at least 12-14 inches down, to check there are no rocks or pipes.
The ideal cultivar
There is such a huge variety of strains to choose from ranging from regular seeds, femenised seeds, autoflowering, CBD rich hybrids and hemp varieties. Now before you get over excited and start investing in genetics, you should have a long think about these factors.
Do you live in a hot or colder climate, and just how many weeks of solid sunshine will your plants recieve when flowering? There is absolutely no point in growing a cultivar that is more demanding than your outdoor environment and fails to mature properly.
Growers that experience shorter summers and colder winters are better suited to growing fast flowering, indica dominant strains, that are also more resilient in terms of fighting of insects, mould and mildew. Those who live in a sunny climate will be able to grow and successfully flower sativa dominant cultivars, because of the long tropical seasons they will be able to enjoy.
Colder climates: Northern Europe
Short flowering cultivars that finish in 7-8 weeks.
100% Indica or indica dominant strains are best.
Strong resistance to insects and pathogens.
High wind resistance due to their short and stocky structure.
Higher tolerance to cold winds and high humidity.
Autoflowering strains may be a good choice.
Hot Climates: Southern Europe / California
Grow any cultivar that flowers from 7-12 weeks.
Indica, hybrid or sativa strains all achieve excellent results.
Autoflowering strains can be harvested all year long.
Which types of pots?
If you do not have the luxury of planting directly into the ground, then using a container that can be moved around if needs be works just as well. Before you fill your pots full of organic growing medium and transplant your precious seedlings, it is a good idea to consider which type of pots to use.
Traditional Plastic
These are your standard pots that can be found in most garden centres, and are very cheap. Even though they are practical, inexpensive and have always been used in the gardening world, plastic pots do have some pros and cons.
They are cheap and easy to access
Plastic pots can be washed and reused
Easy to transplant and label pots
Will cause root bound plants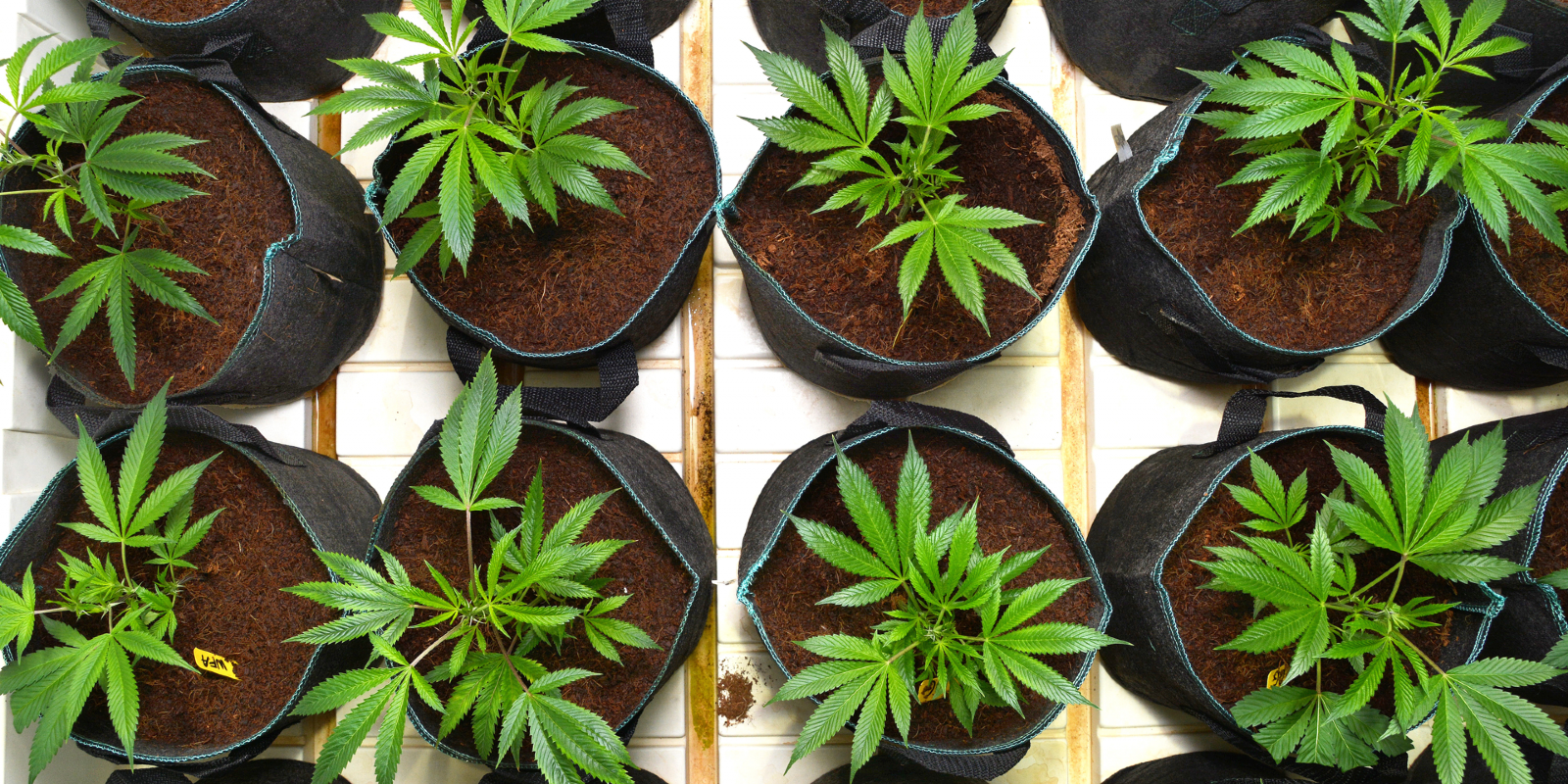 Fabric pots
Felt pots revolutionized the way many people grow their Cannabis plants, as these simple and highly effective pots allow for roots to come into contact with the air. This encourages roots to grow out in all directions and to continue pruning, leading to a prolific root zone with a much higher efficacy than a root bound plant.
Felt pots can be made at home and customised to your own prefered size
Encourages a much more enhanced root zone than plastic pots
There is a far greater air exchange around the root zone
They can be washed and reused
Prevents root bound plants
How big should the pot be?
Cannabis plants typically prefer a space of 14 inches of depth to grow into, so anything over this capacity is seen as a waste of space, growing medium, nutrients and water usage. If you are opting to grow one huge plant then a 50-100 litre felt pot will be a good size.
Planting autoflowering cultivars
The incredible thing about autoflowering cultivars, is how they work so well in all types of climates allowing a grower to harvest multiple times per year. In some cases at least 3 times a year using a fast flowering auto. Growers who experience more challenging weather such as short summers, and cold and windy winters will find hope with autoflowering Cannabis seeds.
Autos are highly resilient and can be planted outdoors at any time of the year.
They are low profile plants that camouflage incredibly well.
Autos can be grown in a back garden, balcony or sunny terrace.
Ideal for Sea of Green setups.
No need to grow them in bigger than 20 litre pots.
They will flower without a set photoperiod of 12/12.
It is not possible to clone autoflowering strains.
A wide range of CBD rich autos are available.
Possible to harvest from 2-4 times per year outdoors.
Autos are highly resistant to heavy winds.
Very low maintenance cultivars.
Perfect for beginner growers
Top tips for planting outdoors this spring time
Invest in a top quality growing medium, that is teaming with beneficial microorganisms, as well as N,P,K and trace elements.
Building a polytunnel is cheap and will last years if built well.
These are an excellent way to keep your plants hidden from neighbours and helicopters and the ultimate for autos.
If you cannot plant South facing, then do your best to locate the plants as close to South as possible.
When making your own custom super soil, make sure you have plenty of perlite, hydroton and biochar to keep the air pockets full and improve drainage and wicking ability.
Make your own felt pots at home, as this is a very cheap alternative to buying them from the grow shop. You can make them to your own size and always wash them after each grow.
Good luck growing some monsters this year and keeping those curing jars full!