Lemon Kush Headband is the perfect strain for Kush-lovers looking for heavy yields. This Sativa-dominant hybrid preserves the typical oily and woody aroma, but offers a far better yield of citrusy buds. Now, and until 3rd December, this outdoor giant can be yours with a 15 % discount on all packs.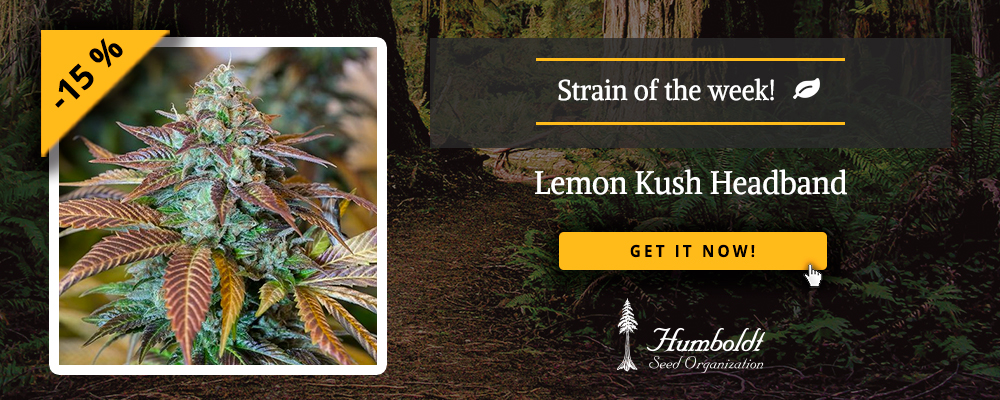 In the world, there are lots of Kush-lovers and this hybrid has precisely been created with all those fans of the oil taste in mind. We wanted to put at their disposal something they hadn't seen before but making sure the so-coveted traits of this cannabis family were kept intact. To do so, we've strived to create a new version that would bring added value to these legendary genetics. And, when referring to the added value, we are talking about the yield of Lemon Kush Headband.
One of the most productive Kush
Lemon Kush Headband can produce up to 9 lb. of flowers. In order to obtain such an amazing yield, she's got to be grown outdoors with enough vegetative time to turn into a huge plant. Don't forget that, when scheduling the germination, the perfect moment for cutting your plants, if you're in the northern hemisphere, is in the 1st week of October, because they need 9-10 weeks to flower.
Besides, if you're intending to grow a huge plant, the use of cages is likely to be necessary to hold the weight of her heavy branches. The good thing is that this strain is highly resistant by nature, with strong roots that allow her to grow very big. However, if you want to cultivate indoors and induce the flowering in the 3rd week, you'll still get heavier yields than with other Kush strains although far from the typical west coast rock-hard buds.
Another notable feature of Lemon Kush Headband is her taste and aroma. Oil and wood overtones get mixed with rather intense citrusy undertones. And, as for the effect, it's mostly invigorating, very Sativa-like and happiness-inducing.