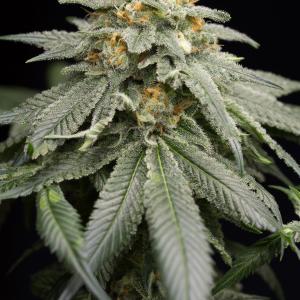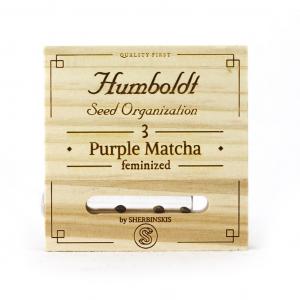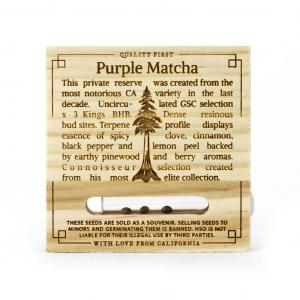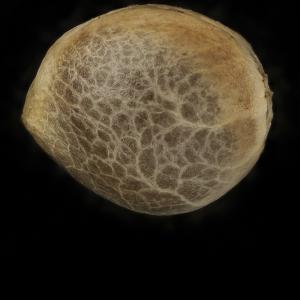 New
Purple Matcha
Purple Matcha by Humboldt Seed Organization is a private reserve elite strain created from the most famous California variety in the last decade which elevated the progression of the modern global cannabis movement. A 1st generation, uncirculated GSC selection and 3 Kings Blueberry Headband were combined to reach new heights in the realms of terpene profiles. Read more
Sex
Feminized
Genotype
70% Indica / 30% Sativa
Cross
Sherbinski's uncirculated GSC

x

3 Kings BHB
Suitable for
Indoors and outdoors
Indoor flowering
60-65 days
Indoor yield
450-550 g/m2
Outdoor harvest time
Mid-October
Outdoor yield
3000-4000 g/plant
Outdoor height
2-3 m
THC
20-25%
CBD
0.1%
Complex and intense terpene expressions
An exclusive top-notch California variety
Hardy and vigorous growth during early vegetative stages with broad, Indica-leaning fan leaves assisted by a powerful resistance to disease. Aggressive lateral branching provides even development for later flowering periods. Dense and compact bud sites boast extremely high resin production and maintain substance all the way to the bottom of the stem. Incredibly pungent and complex terpene expressions are displayed with overpowering essence of spicy clove, cinnamon, black pepper, and lemon peel, backed by earthy pinewood and acrid berry undertones. Effects are very strong, providing a unique long-lasting head high followed by relaxing body sensations. A connoisseur selection created from Sherbinski's most private collection.
Suitable for all growers
Remarkable resistance to disease
Strong, hardy and vigorous vegetative growth assisted with aggressive lateral branching creates even plant development. Normal to modest feeding regimes are recommended. Plants require minimal maintenance throughout the entire cycle, being suitable for all cultivation skill levels. High resistance to disease and very versatile for a wide range of climatic conditions. Plants will stretch 30% on average when transitioning into the flowering period. Thinning of fan leaves to make way for deep light penetration is highly recommended. Minimal manicuring is needed underneath the canopy as bud sites provide substance all the way to the bottom of the stem. 6-9 plants per sq. meter contingent on pot size and vegetative periods are best to maximize the production of the canopy. Outdoors, single cage support is recommended to assist in later flowering stages. Secondary trellis support may be needed dependent on pot size and/or planting dates.
Write a review for this strain
and win a €200.00 worth HSO seed collection!
Every two months, we will raffle off an awesome batch of seeds worth €200.00 among all customers who leave a review. Write yours now!
Customer reviews for Purple Matcha
---
Write a review for Purple Matcha
All of us breeders at Humboldt work hard to provide you with high-quality seeds and now we want to hear about YOUR experience as a customer. Don't be shy!
Your rating (between 1 and 5)
Leave a comment
Read customer reviews for Purple Matcha in other languages