Pineapple Skunk is one of those super-smelly marijuana strains that will make the most gourmands swoon with pleasure. Her intense aroma of pineapple, ripe fruits and, of course, of Skunk is not only delicious but unforgettable too. Throughout this week, you will get 15% off when purchasing any pack of this cannabis delight. You've got 'till next Sunday, December 24th, to enjoy this awesome deal!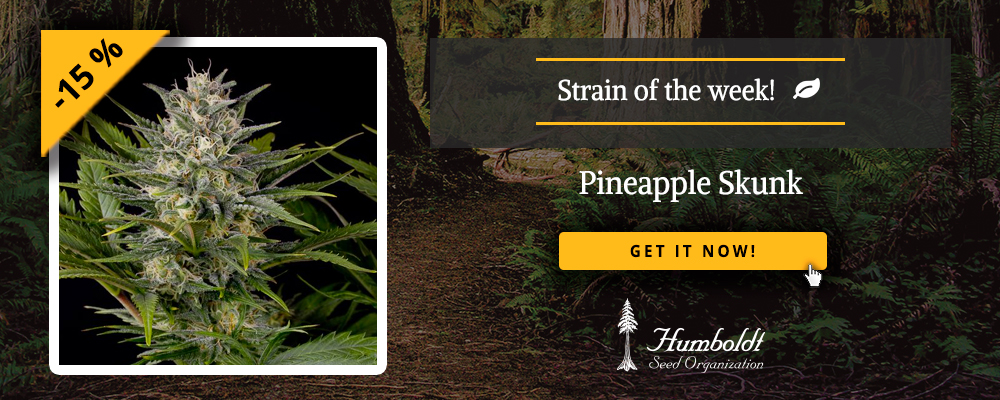 Pineapple Skunk is an Indica-dominant strain and, as such, is mostly compact and squat. One of her greatest assets is her fast flowering, lasting just 53-58 days. If you're growing indoors, we recommend installing a good anti-odor filter capable of neutralizing the intense aroma this plant gives off. As one would expect from an Indica genotype, she thrives in warm and Mediterranean climates, because, if in contact with extremely humid climates, her dense foliage may give way to serious moisture-related problems.
She's really vigorous and healthy, though. In fact, the results obtained in exchange for such little effort are simply amazing, as stated by one of our growers: "(...) she turned into the most productive plant of my garden the first time I grew her and, back then, I had no idea what I was doing. I think she's particularly suitable for novice growers because no experience or expertise is needed to obtain incredibly bountiful crops. Pineapple Skunk was the strain with which I got into the HSO world and she definitely became one of my favorites."
Good yielder
Pineapple Skunk is, on top of that, an excellent yielder of large, resinous and compact nuggets with not only incredibly high THC levels, but a delicious aroma of pineapple, citrus, Skunk and pepper too. In fact, as previously mentioned, Pineapple Skunk is one of the smelliest strains of our catalog. Her piercing aroma will grip you from the very beginning.
And, to top it off, apart from a wide range of terpenes, Pineapple Skunk showcases a high THC content that makes her effect be of extreme potency, both physical and relaxing. Perfect to fight insomnia and chronic pain.