OGKZ is undoubtedly one of the masterpieces of our breeders. Derived from pedigree genetics, Zkittlez and OGKB (OG Kush Breath), this Cali jewel keeps the amazing gassy aroma with sweet, citrus, and cedar nuances intact. In this grow report, our collaborator Stoney Tark provides tips and tricks on how to grow this cannabis jewel and make the most out of her.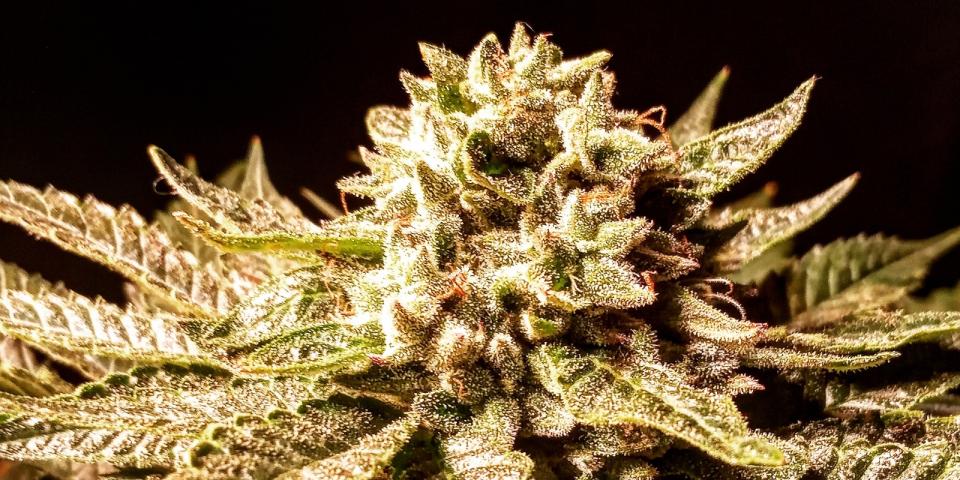 Environment: Indoors
Lighting: SANlight LED Q6W
Grow Medium: Coco, worm castings, perlite
Nutrients: BIOtabs guerrilla tabs
Pot Size: 11L felt pot
Growing Phase 18/6: 4 weeks (Zero plant training)
Flowering Phase 12/12: 8 weeks
Flush: 2 weeks
By Stoney Tark
I was sent a pack of feminized OGKZ from Humboldt Seed Organization. These seeds were made by crossing OGKB with Zkittlez. There was much hype surrounding both of these strains and how the flavor profiles of both are off the charts. The OGKZ will be grown in an organic substrate consisting of coco, worm castings, and perlite to provide a well balanced, aerated growing medium. She will be grown under 230w L.E.D lighting from SANlight L.E.D and the main nutrients I will feed her with will be a dry food tab from BIOtabs.
Growing Phase 18/6
After germinating the seed in a cup of water for 24 hours, there was a small tail emerging from the seed. Eager to get this strain growing, I planted the seed into a pint-sized plastic cup, until it was time to repot. The OGKB will be grown for 4 weeks and then flowered, for the next 4 weeks of 18/6, the plants will be fed daily a small quantity of plain water. For the plant to have enough micro and macronutrients available to the roots, a top layer of dry food nutrient is added.
After 7 days, the seedling looked fresh and full of life, as the first two true leaves reveal themselves. I don't want the seedlings to stretch and grow lanky so they are kept around 1 meter underneath my grow light. The first signs of growth are very healthy and a very hairy main stem. After 10 days and nearly halfway through the growing period, the second leaves are coming through, which have thick foliage and long serrated blades. My temperatures are at 23 degrees Celsius and my hygrometer indicates the humidity is 72%.
After 21 days, the growth structure is similar to a Christmas tree with a main central growth tip and multiple smaller growth sites in a circle around the plant. You can tell this one will be a tightly structured plant when it flowers, so make sure the airflow is permanent and botrytis cannot attack later on. The plant height is only 6 inches tall but it has a stacked, low profile. At this point, I transplant into an 11L felt pot that consists of the exact same growing medium as the pint-sized pot.
After the 28-day mark, considering the seedling was kept in a pint-sized pot, the height before flowering is just under 9 inches. The main stem is around 1 cm in diameter with a strong woody appearance. The lower side branches of the OGKZ all seem to grow around the bottom canopy surrounding the entire plant in flowering sites. There has been no plant-training performed on the plant and now she will be ready to flower.
Notes From The Growing Phase:
OGKZ has multiple lower branches and resembles a Christmas tree shape.
The foliage feels very thick and has a velvet soft quality.
The overall structure is short and stocky, making it ideal for small grow spaces.
No deficiencies or any signs of wilting. Only happy vigorous growth.
Fan leaves' shape is thick, with long serrated fingers that are close to 15 cm in length.
Resinous leaves even in the growing phase, which is always a great sign.
Grew to a height of 9 inches before repotting.
Flowering Phase 12/12
The OGKZ was placed into a flowering tent where she will now spend the next 8 weeks in an 11L pot. There has been zero plant-training performed, not even pruning for the purpose of the grow report. After the first week, she has grown taller, exceeding 12 inches tall, meaning there has been a stretch of 3 inches in one week. She is responding extremely well to the repotting and her fan leaves are praying up to the sky.
The temperature will remain around 25 degrees during the hottest parts of the day, especially as the time of year is now April and spring is upon us. The humidity is dropped to 50% and then, during the final 4 weeks of flower, will gradually reduce the humidity to below 40%, as I have heard Zkittlez is prone to powdery mildew and mold.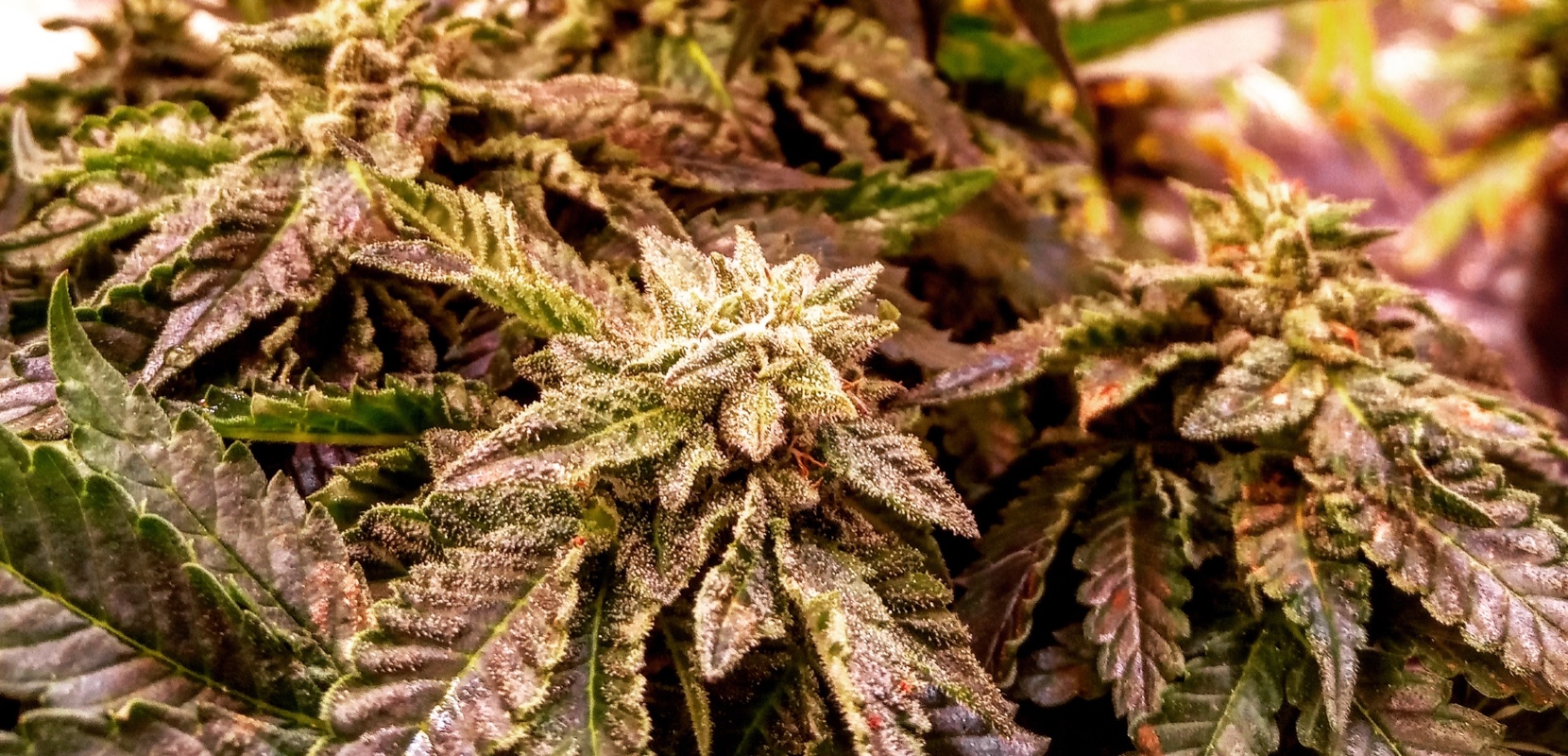 By day 15 of flower, the size and width of the plant have grown significantly, as the lowest side branches express themselves. The only way to describe the growth structure is like a skirt of flowering sites all the way around. A very unique trait and something that you do not see so often. The new growth begins to reveal more resin and to slightly curl inwards with resin.
On day 23, the stretch is finally over and now the total height at this time is 15.5 inches. For such a small plant, she really packs on the weight around her lowest branches and main central bud. The internodal spacing is so tight that every part of the plant looks bulky and full, making her a great producer in my book. Her fan leaves have not grown much in size since the growing period and are still very happy facing upwards praying to the light.
After day 30 of 12/12, the aroma that this lady is producing is a mix of mango with a sweet earthy background. When rubbing my nose on the flowers forming, there is a wonderful scent of fresh peach, mango, and cookie dough. The buds are very compact and tight, with almost no space to move the buds around and inspect them. The leaves growing through the buds are as white and frosty as the buds themselves, giving this lady a heavily resinous appearance.
Now that the OGKZ has been flowering for 40 days, I will make sure she is only fed water so there is a minimum of a 2-week flush. This is where I want to get the absolute best flavors and aromas. The bud structure is short and dense with a hard-to-squeeze quality. The aroma and fragrance she produces are mouth-watering, and it appears it will be an easy one to trim with a high calyx-to-leaf ratio.
On the 7th week, the plant is completely frosty with a rock-hard bud structure. There is one central cola that consists of tightly packed buds, with a plethora of lower buds that produce the exact same quality and size as the top buds.
Day 52 and all of the pistils have turned brown and, under closer inspection, the buds have swollen to their maximum. The smaller leaves surrounding the buds are all dripping in resin, meaning there will be some great material to make hash with later on.
The plant is officially chopped down after 57 days, and she will be hung in a drying room for at least 10 days. It is nearly the month of May, where the temperature and humidity in the south of Spain are very high and can cause many problems with powdery mildew and botrytis. Overall, I am very happy with the end results, harvesting 27 grams off one plant in an 11L pot fed only organics.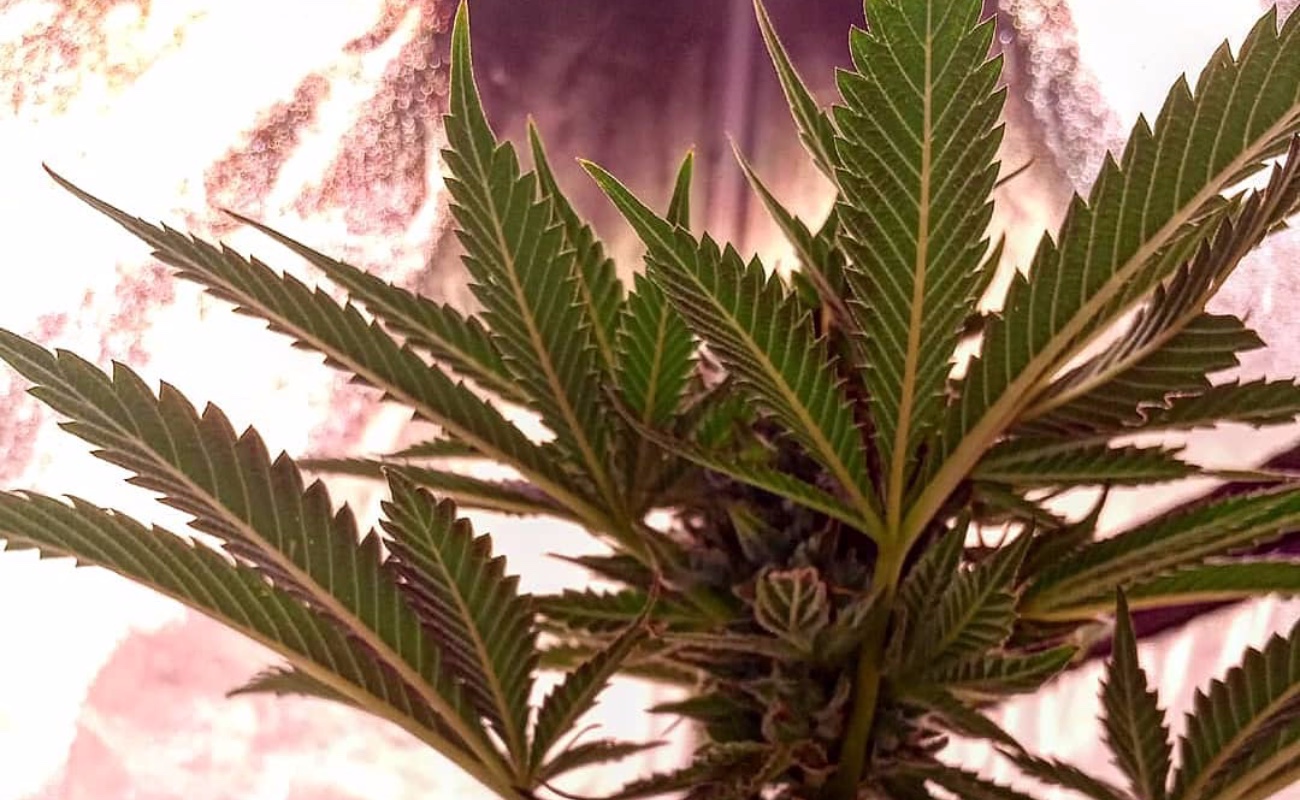 Notes From The Flowering Phase
The total plant height was 45 cm / 17.7 inches
The stretch was an increase from 22.8 cm to 45 cm
No signs of deficiency of wilting
Mango, earthy fragrance
Heavy lower branching
Foliage does have a velvet texture
Intense resin profile.
The Conclusion
The buds are thick, sticky and reveal the most amazing fruity, funky aroma that can be tasted all the way down to the bottom of the joint. I am very impressed with the yield of this strain and am sure that, with a bigger pot from the seedling stage, more nutrients and incorporating plant training, the yields can really be enhanced. For hash makers, this is a brilliant variety with almost every leaf having a line of resin around the edge.
OGKZ works really well in smaller-sized grow tents or cupboards, due to her short but wide profile, finishing at a total height of 45 cm (17.7 inches). I would strongly suggest making sure that airflow around the inside and bottoms of the plant is permanently on and providing plenty of air to prevent any insects or plant diseases from infesting.