If you love Indica genetics with strong flavors and immensely soothing effects, this exotic beauty is sure to captivate you. Don't miss this week the chance to obtain this intoxicating queen with a 15 % discount on all the packs. Only until next Sunday, 10th December!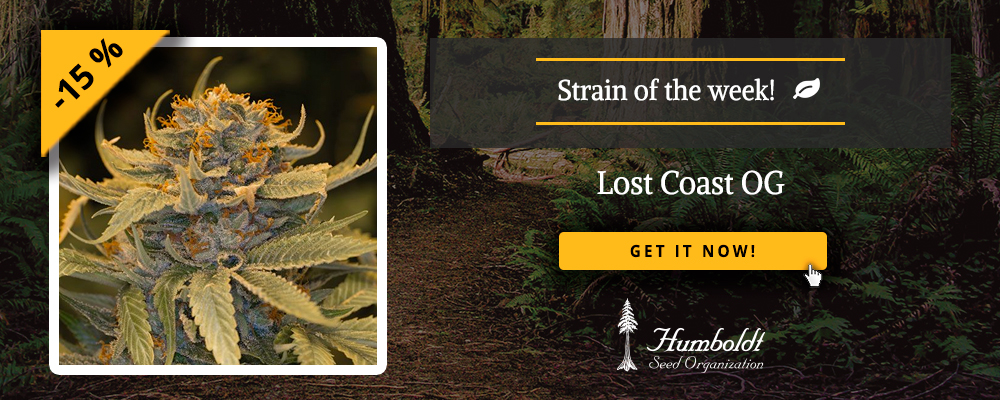 With origins as ancient as they are exotic, we knew that, to create a really special thing, we couldn't skimp on genetic wealth. That's why we selected two pedigree genetics with exceptional qualities: a Pakistani Kush that provides all the Indica essence of the ancient strains and a Lemon Thai with a fresh and citrusy touch capable of awakening all the senses.
An all-around Indica
The result of such a marvelous cross is our Lost Coast OG; a cannabis jewel that, apart from showcasing a unique taste, is better suited to outdoor climates than her cousin-sister OG Kush thanks to her short flowering that makes her more resistant to moisture. The perfect strain for marijuana growers living in regions with humid climates and short summers.
This powerful hybrid is also an awesome choice for those who have just started growing because she's easy to grow and produces generous crops of compact, smelly buds in exchange for very little attention.
Tastes and aromas for gourmets
The extraordinary flavor of Loast Coast OG was conceived to surprise all those experience users who have already tasted everything. A trip to a relaxing universe through very intense tastes and aromas. Her stimulating mix of tropical fruits and exotic wood is topped with clear hints of Kush and lemon. Definitely a very interesting proposal for those looking for fruity flavors and relaxing properties.