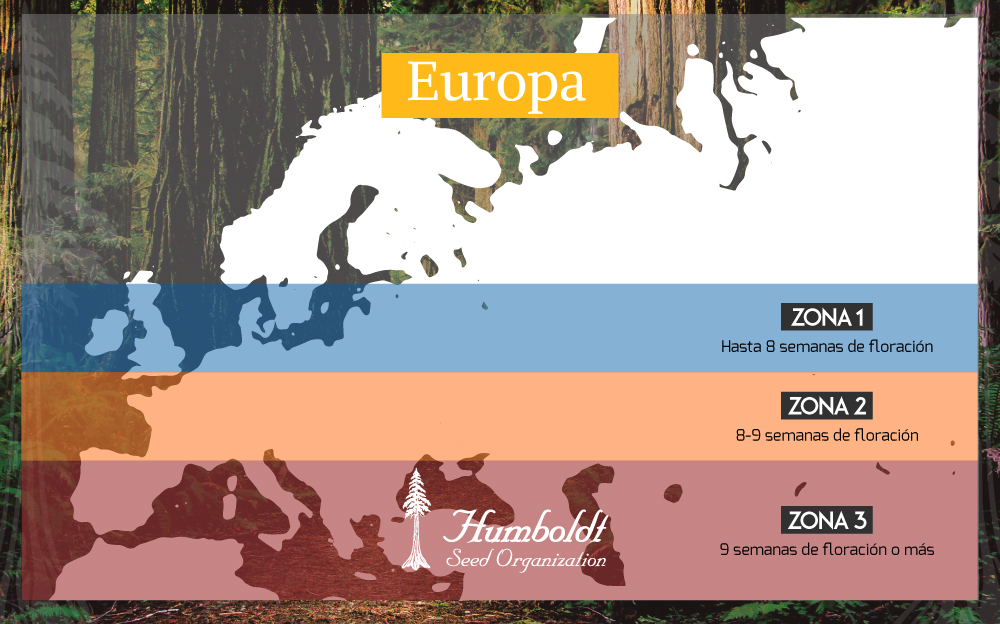 By Stoney Tark 
Mango Sapphire
Mango Sapphire is an indica-dominant hybrid that will flower in a short time of 48-53 days. This lady is a cross of Bubba's Gift x OG Afghan, meaning she can tolerate shorter summers and cold winters. Mango Sapphire is an easy-to-grow strain with indica dominance producing smaller, short, uniform plants. If left untrained, Mango Sapphire will grow as tall as 7-10 feet, growing dense, compact, frosty nugs. Her flavor and aroma are delightful and fruity. Mango Sapphire can be described as exotic with a mix of coconut, sour fruits and mango. A highly potent strain which has THC levels of 21-23%, meaning this lady has a powerful physical effect. An excellent choice for medical patients who are seeking relief from pain and discomfort. Mango Sapphire is better suited for night-time use, due to her calming effects.
Bubba's Gift
Bubba's Gift is a low-profile variety that will flower in 45-50 days, meaning this easy-to-grow strain is perfect for Northern Europe. A cross of Bubba Kush and God's Gift, those growers who require a short flowering time and a resilient plant will find Bubba's Gift to be a perfect candidate. She is an 80% indica-dominant strain which grows shorter than most, becoming 3-10 ft tall. Bubba's Gift grows very uniform, making her an excellent choice for Sea of Green. She will be ready to harvest in 7 weeks' time, producing golf ball-sized buds. The flavor and aroma are unique and could be described as drinking a Pina Colada while smoking exotic fruity buds with overtones of spices and oil. Due to Bubba's Gift indica dominance, users can expect a long-lasting, potent effect which will comprise of heavy legs, heavy eyes, and feelings of total relaxation. THC levels range between 17-20%, so for fans of narcotic indica varieties, Bubba's Gift is a robust plant.
Bubba Kush
Bubba Kush is a 100% indica strain that is an excellent choice for growers in Northern Europe who require, small, discreet plants with a strong resistance to insects and pests. Bubba Kush will flower in 58-63 days, meaning growers who want to harvest around early September can do so. A cross of Afghan and OG Kush, she will grow to a height of 7-10 ft when left untrained. Bubba Kush grows large fan leaves that can be pruned later on to improve canopy lighting. This lady grows with short internodal spacing and will stretch twice her size, thanks to her indica lineage. Bubba Kush has an intensely sweet, fruity and exotic flavor and aroma. There is a background of earth, spice, and fruity chewing gum. Her effects are profoundly relaxing and typical of a full-blooded indica. With THC levels of 24%, expect this powerhouse to have medicinal benefits. Bubba Kush is exceptionally potent and only for smokers with a high tolerance.
Black D.O.G.
Black D.O.G. is a short flowering hybrid which will flower in 50-57 days. She represents three of the best strains from the Emerald Triangle and is an excellent choice for growers in Zone 1. Initially created by Bio-Vortex, this indica-dominant strain has a high resilience to harsh environments and can produce excellent results in a hotter climate. Thanks to her short flowering time, Black D.O.G. is a top candidate for novice growers as this lady is an easy-to-grow strain which produces dense, purple-colored, frosty buds ready for harvest in the first week of September. Black D.O.G. has a strong, gassy, berry aroma with a pungent, pine background. She will have a complex flavor of musky, fuel and grape, earthy overtones, which have a strong influence from the Headband father used in the breeding programme. Black D.O.G. is a potent variety of cannabis which has a heavier physical effect and a long-lasting high. An excellent choice for medical patients who are searching for relief from pain and discomfort.
Master Kush
Master Kush is a highly potent, indica-dominant strain with a short flowering time of 50-55 days that makes her an excellent choice for growers who face shorter summers and colder winter months. A cross of Kush, Skunk, and OG, Master Kush is a short, stocky variety that has high tolerance to insects, cold and wet weather. A very uniform plant that makes an excellent choice for Sea of Green grows. Despite her stocky appearance, this robust strain will grow between 7-10 ft and produce tight, dense, frosty buds. 95% indica, an easy-to-grow strain that is ideal for rookies. The flavor and aroma of Master Kush is a blend of Kush, citrus, exotic fruits, with overtones of spiced earth. Master Kush will have a powerful effect that can be described as lethargic and heavy bodied. THC levels are a sky-high 24%, meaning Master Kush is for indica lovers or those seeking therapeutic relief. This lady is a beautiful choice for medical patients, as her effects are long-lasting and deeply relaxing.