Each cannabis strain has its own peculiarities, depending on where it's grown as well as on its DNA, which makes them exhibit some specific traits. However, there are several trimming methods that allow you not only to improve the yield but also to control the growth of your cannabis plants. Here are some really interesting techniques that could be of great use.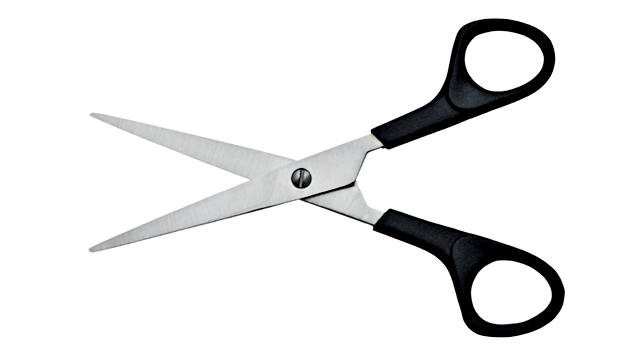 Introduction to the different trimming methods for marijuana plants
When reading the description of some Sativa-dominant strains, one can easily understand the frustration some growers might feel for not being able to grow them indoors. The problem is that Sativa genetics overstretch and grow super-high, making it very difficult to cultivate indoors unless their growth is properly controlled. It's natural that cannabis growers want to cultivate various strains at the same time to diversify the consumption or to discover new genetics. However, the size of the plants could vary greatly and end up causing a lot of trouble. The direct consequence is that the tallest plants cast a shadow over the smallest plants, so they don't receive enough light to grow homogeneously.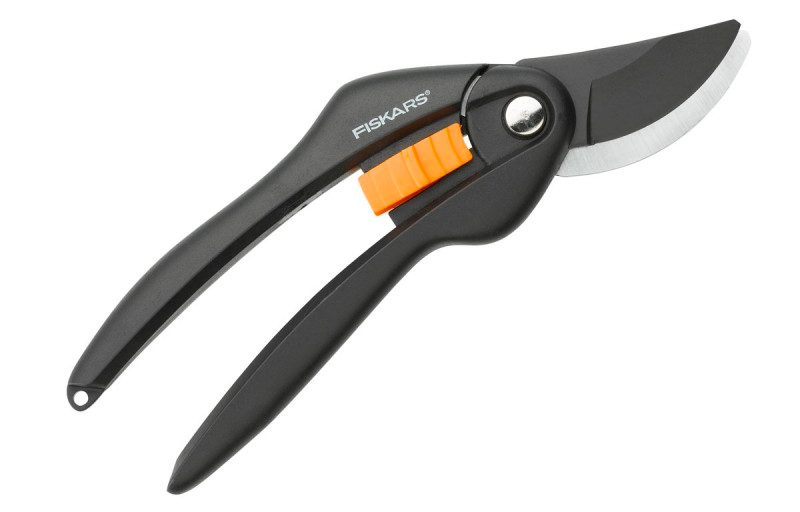 Fortunately, though, these problems can be easily solved by using the following techniques. Not only will they help you obtain highly uniform plants indoors, but they'll also make your outdoor cultivation far more discreet. But the advantages don't end there. With these techniques, the yield will also be significantly improved. Another factor we must remember before entering fully into this is that these methods allow us to obtain optimal results with virtually all feminized and regular strains, which means they shouldn't be used on autoflowering genetics because they're programmed to flower around the 3rd week of their lives. Not being subject to a specific photoperiod, there's no technique capable of improving their growth or vegetative development. The most important trimming techniques to make the most out of your cannabis plants are these: pruning lower leaves, topping, super cropping and FIM (Fuck I Missed!).
Trimming the lower branches of your cannabis plant
This is one of the most commonly used techniques by cannabis growers all around the world and allows plants to fully concentrate on the production of top flowers. Basically, the plant has better access to light, which maximizes the yield as well as the presence of active substances.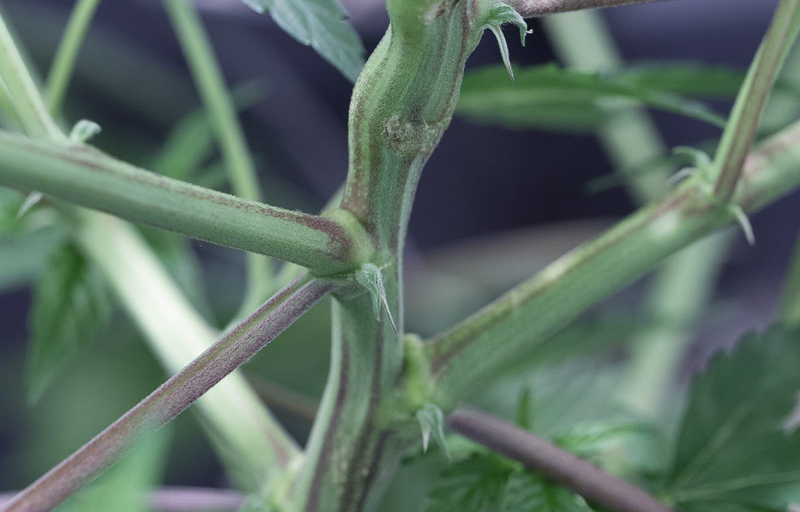 We shouldn't be hesitant when cutting off the branches that don't receive enough light and hence produce very few and small flowers, because we'll soon discover that there was nothing to worry about since we'll obtain generous crops of thick, resin-packed flowers. This technique is particularly suited for strains such as Pineapple Skunk, OG Kush or Chemdawg.
Topping your cannabis plant
Topping is another widely used trimming technique. With this interesting method, it's possible to control plant growth both indoors and outdoors. While, indoors, it allows us to grow extremely vigorous plants without worries, outdoors, it makes our crops far more discreet, which is, in fact, a priority in both cases.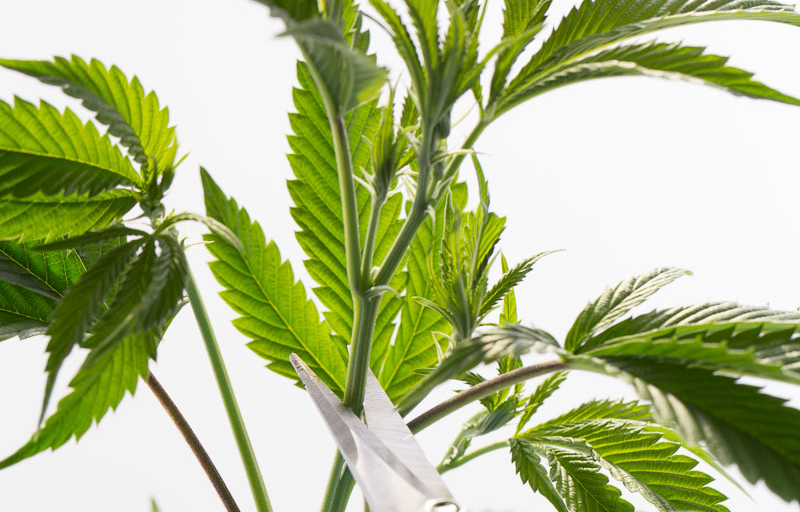 Before using this technique, it's necessary to make sure we've got the most adequate tools: a pair of meticulously cleaned and sterilized scissors to prevent our plants from getting infected. This simple but effective gesture will surely protect our plants. For doing so, we must use a clean rag or sterilized cotton soaked in rubbing alcohol and, if we are not going to use it for a long while, we have to grease the blades to prevent them from becoming rusty. This method involves cutting the tip of the plant also known as the apex. The best time to use it is some 5-10 days before switching the photoperiod to 12/12h because, this way, plants will still have time to recover and keep on growing for about 10 days before the flowering phase starts. With this method, the production of the side branches is significantly higher, with smaller but way more numerous nuggets. It's particularly suited for strains such as Desert Diesel, Purple Trainwreck and Lemon Thaï Kush.
FIMming your cannabis plant
The name of the FIM technique (Fuck I Missed!) was formed with the acronyms of the expression used by the grower who accidentally came across this method when he realized he'd forgotten to top his plants. All he did then was to use this technique and... voilà! FIMming consists in pinching the newest growth for obtaining more numerous and vigorous side branches while keeping the top branches too.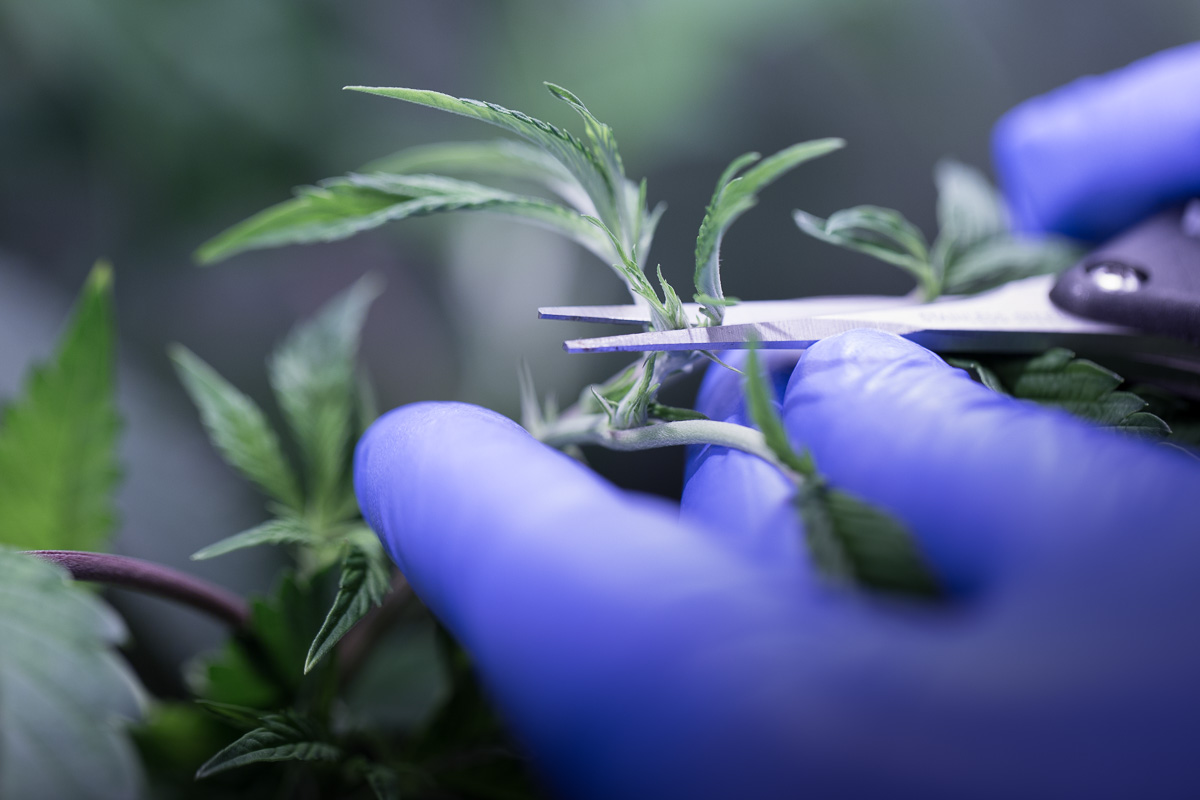 One of the basic rules is that growers must only trim the top 80 %, leaving the 20 % of it intact. This way, the node can regenerate and split into many more tops that will later turn into incredible buds. If ¾ of those new branches are cut off, 2 new tops will appear a few days later. With this method, up to five pairs of tops can be obtained, without this representing any additional risks. At worst, our plant will stop producing buds, but it won't run any risk. Should this method be used incorrectly, the only thing that could happen is that the result is similar to the one obtained when topping. It's particularly suited for strains such as Sour Diesel#2, Green Crack and Dedoverde Haze.
Super cropping your cannabis plant
Super cropping is a recently discovered trimming method. On principle, it's rather easy. It basically consists in carefully snapping the inner fibers of the tips of the main branches. The most important thing is to be very careful not to damage the outer or inner tissues of our plants because it could weaken them. Another major consequence of a bad use of this technique would be the loss of the treated area, so act with caution and patience.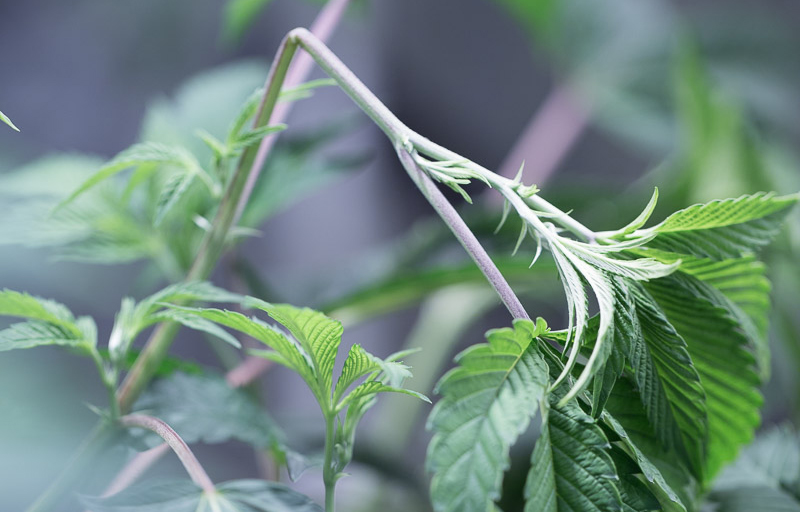 Its aim is to limit the vertical growth of the upper tips and force them to grow sideways so as to let the lower branches of the plant grow more comfortably upwards. This way, the entire plant will grow homogeneously, offering better yields. It's particularly suited for strains such as Blue Dream, Raspberry Diesel, 707 Headband and Blueberry Headband. We hope our tips help you obtain bountiful quality crops!