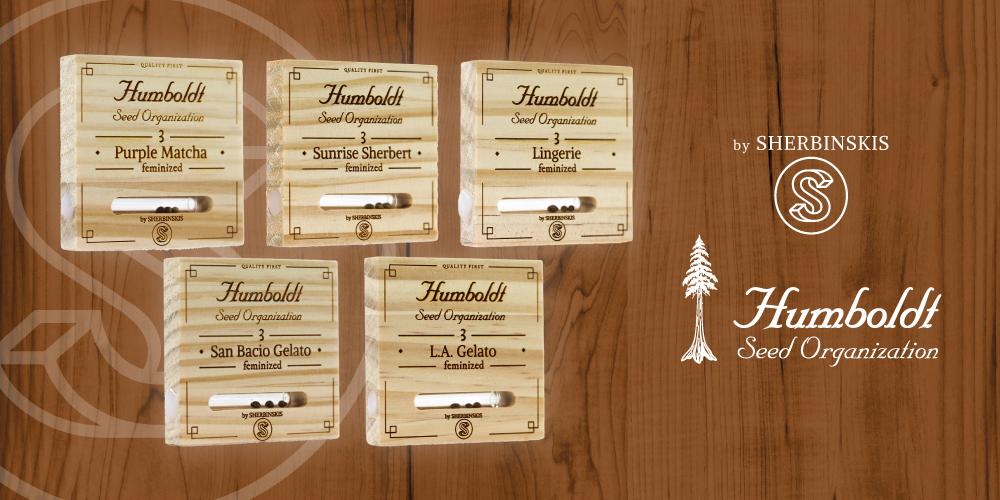 We couldn't be happier to welcome the awesome Gelato into our catalogue in the shape of 5 new genetics created with our partner Sherbinski. Five amazing varieties with each and every one of the features that have turned U.S. hybrids into a benchmark for global cannabis breeding: potency, unmatched terpene richness, and vibrant colors. Groundbreaking crosses aimed at improving some of the leading cannabis jewels of the latest green wave happening in California that have come to beautify your grows. Strains derived, on this particular occasion, from the cross of some of Sherbinski's most highly-guarded clones and a 3 Kings Blueberry Headband.
---
Lingerie
According to Sherbinski, what they wanted to do was add some more potency and higher yields to the original Pink Panties, which they definitely accomplished by crossing it with BHB 3 Kings, responsible for the massive amount of gooey resin. Lingerie is a strain with vigorous vegetative growth that can double in size when transitioning into the flowering stage. Despite having thin and elongated fan leaves, thorough cleaning and manicuring beneath primary and second layers of canopy is required for deep light penetration.
Those who grow Lingerie can expect 1 lb/m2 of Sativa-leaning spiky yet thick buds. Lots of juicy nugs with high resin production. The terpene expression is a blend of citrus, inherited from Pink Panties, wood and earth, from the 3 Kings, and sweet fruits, legacy of Blueberry. As for the effect, it's powerful but not too heavy.
Sunrise Sherbert
Direct descendant of Sunset Sherbert, a legendary strain born unexpectedly in Sherb's garage when a male Pink Panties accidentally pollinated some GSC female plants, Sunrise Sherbert contains features from some of the most iconic SF Bay Area strains, such as Gelato. Fast-growing, like any Indica-leaning strain, ready in no more than 65 days. A long vegetative period is required so her strong lateral branching can grow in every direction.
With the start of the blooming phase, she can double in size, so you may need to reorganize your grow space when that moment comes. Once the budding kicks off, you'll be amazed at the density of the nugs and their high resin production. As expected from such a quality plant, Sunrise Sherbert delivers a hard-hitting buzz.
San Bacio Gelato
This strain is definitely one of the most special ones resulting from this collab. Having the chance to work with the original Gelato is beyond the means of most people. However, if you are lucky enough to work with one of the men behind her creation, it's way easier. The breeding process of San Bacio Gelato started out with one of Sherbinski's most highly-guarded original clones of Gelato, and the result couldn't but take our breath away.
Exactly like her predecessor, San Bacio Gelato is a compact Indica with strong and prominent lateral branching. Expect huge thick nugs like the ones appearing on social media every day, with the extraordinary thickness and terpene profile unique to U.S. cannabis hybrids. The remarkable resin yield of the last weeks allows for a mind-blowing hard-hitting buzz.
Purple Matcha
Born from the cross of a 1st generation Girl Scout Cookies and a 3 Kings BHB, this Indica-leaning hybrid acquires a beautiful purple coloring during the last weeks of flowering, putting on an awe-inspiring visual show. But your eyes are not the only ones feasting. Your nose will also enjoy the spectacle. Fruity Blueberry nuances are matched by the sweet hints of the fruity 1st generation Kush.
Growing this sturdy plant is very easy too. No previous knowledge is needed to obtain excellent results. All she asks for to develop fully is a standard feeding regime. Thanks to her exceptional resistance to plagues and diseases many problems are avoided in this way.
L.A. Gelato
As it couldn't be otherwise, 3 Kings BHB is also the parent to the L.A. Gelato. This time, though, she's been crossed with one cut of Acai Gelato; to be more precise, the #49 pheno selected by Mario in his SF garage. So, once again, Gelato is behind the amazing quality of this strain.
A plant with high climatic and environmental versatility known for her huge appetite resulting from all the energy she has to put into developing her aggressive lateral branching. If properly fertilized, extraordinary harvests are, however, guaranteed: large, compact nuggets whose dark coloring contrasts with the light shiny resin covering them. The effects are exactly as you'd expect from such tight nugs: powerful and long-lasting.