Sometimes for stoners, especially the ones that smoke too much and/or have complications managing /multitasking throughout the day (like me), the best solution is to simply take a break or smoke less. However, CBD oil can be a perfect solution since this cannabinoid counteracts the negative effects of the THC, helping to be more focused and even to fight anxiety.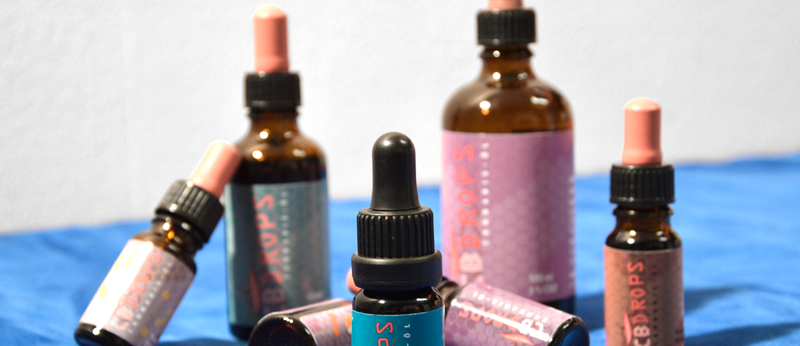 A few years ago on one of my many visits to Vienna, Austria, I was gifted a few bottles of what I now consider to be magic. I had not tried them really until this year...gosh I was surprised to really see this product work for me. CBDrops oil from Bushplanet is really helping me with my anxiety and for me, does wonders for my general mood whilst not smoking. There definitely is something to be said about whole plant CBD isolate extract. The CBD oil really takes the "edge" off so to speak and while traveling it really is lovely! I had some on my flight over and it really seemed to do the trick, but i'd be lying if i said that the spliff of organic bio-dynamic Mango Sapphire wasn't better! The CBD Isolate is mixed in a lab with organic high-grade hemp seed oil and comes in different flavors: cherry, lemon, orange, mint and original, which also come in 2.5% and 5% CBD varieties if the 10% version is too strong.
Why is CBD oil so helpful?
CBD or cannabidiol is a component present in some (not all) varieties of cannabis. It is one of the more than 545 compounds that have been identified to date, present in the chemical composition of Cannabis Sativa. Among them, approximately 104 have been classified as cannabinoids due to presenting certain shared structural characteristics. Within this group of cannabinoids, we also find THC, the compound that up until now has been the most famous and most enhanced in the cannabis varieties present on the market. This is because this component is highly psychoactive, while CBD is not only non-psychoactive, but it counteracts the effects of THC. I have just explained the benefits of CBD when it is combined with THC. But what happens if you consume pure CBD? By itself, this cannabinoid does not produce any psychoactive effect, although it does produce a mild feeling of calmness. This means that the isolated consumption of CBD does not produce the feeling of intoxication that we normally link the use of cannabis to; however, it does have many medicinal properties. These two features make it a powerful ally for the therapeutic sector, as it can help to alleviate certain types of sicknesses and illnesses without the patient suffering from any type of psychoactive experience. Several scientific studies have found that CBD possesses the following medical properties:
Antiemetic: Reduces nausea and vomiting
Anticonvulsant: Reduces seizure activity
Antipsychotic: Combats psychosis disorders
Anti-inflammatory: Fights inflammatory disorders
Anti-oxidant: Combats neurodegenerative disorders
Anti-cancer / anti-tumoral: Kills cancer and tumor cells
Anxiolytic / Anti-depressant: Fights anxiety and depression disorders
Directly after taking 2 drops, I can feel the CBD oil work its magic in under a minute. It is not a sensation of being high, rather the opposite, somehow. By no means am I a doctor, but in my opinion and for myself, it simply works like a charm. I much rather take this oil before any pharmaceutical pills! For more info check: BushPlanet CBD shop They have many different flavors, from which I like the 10% "natural or original" flavor the best. Greetings Ras ras@humboldtseeds.net