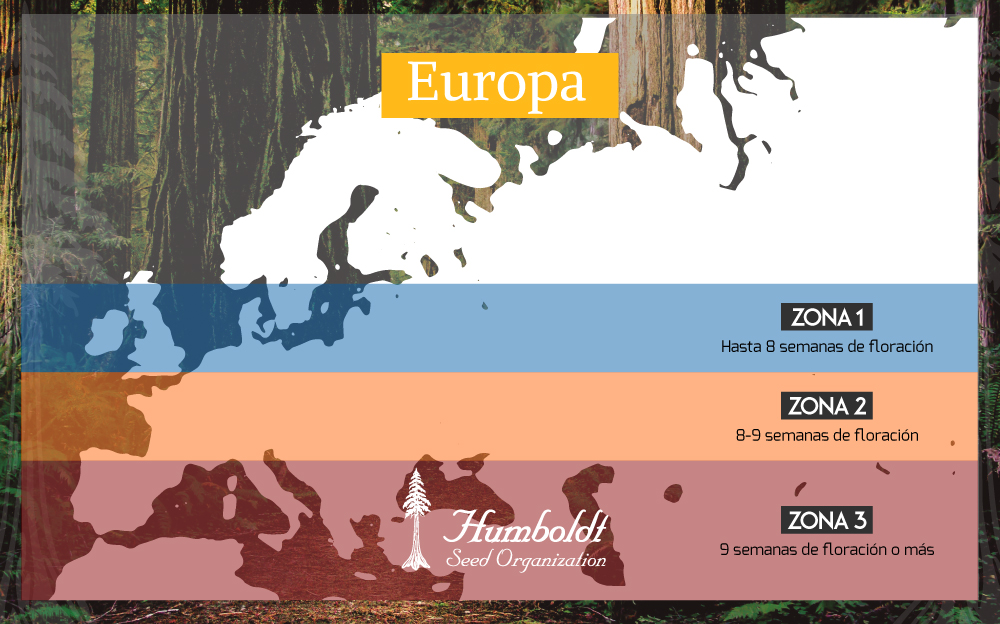 By Stoney Tark 
Desert Diesel
A cross of Amherst Sour Diesel and Diesel Afghan Diesel, this lady is close to a perfect blend of indica and sativa genetics. Desert Diesel is 55% sativa, with a flowering time of 65-75 days. A resilient plant who can produce large yields of fruity, dense flowers. If left untrained Desert Diesel can grow up to 10-13ft and will do so with a broad, multiple side branches. This girl reacts very well to plant training and, thanks to her balance of indica and sativa genetics, Desert Diesel will produce large yields. Desert Diesel will have a sweet, fuel, diesel fragrance and an intense flavor. The effects will be closer to sativa, meaning that Desert Diesel can invigorate, uplift and make users feel euphoric. A very enjoyable and long-lasting high, making her an excellent choice for morning and daytime use. THC levels will range from 17-23%, making Desert Diesel another potent hybrid from the breeders at Humboldt Seeds.
Trainwreck
Trainwreck is a 60% indica dominant strain with a short flowering time of 58 - 63 days. An elite clone which was preserved in Arcata, Humboldt Bay. Trainwreck will grow will multiple side branches which, when flowering, will produce large calyx that stacks up, coated in resin. Thanks to the 40% sativa influence, Trainwreck is an excellent choice for using in a SCROG grow and reacts very well to pruning. She will have the resilience to colder weather and performs brilliantly in warm weather, especially in a greenhouse environment. Growers can expect to harvest Trainwreck around the middle of September, where she can grow large, compact, stacked buds The flavor and aroma of Trainwreck are spicy, herbal, cedar and sour. A unique terpene profile which has a background of citrus, spicy Kush and exotic wood. As a hybrid, her effects are well balanced, and she can offer a long-lasting physical impact, accompanied by a pleasant, dreamy head high. Trainwreck is 15% THC, making her an excellent choice for smokers who do not want an uncomfortably potent strain that cannot be smoked during the day times.
Sour Diesel #2
Sour Diesel #2 is a short flowering indica-dominant hybrid, perfect for growers with short summers. Part of the crew for over 17 years, Sour Diesel #2 is a robust, sturdy performer that is a heavy feeder. A cross of Mexican Sativa x Chemo (Afghani), this lady will be ready to harvest in 10-11 weeks or around mid-November, where she grows long, elongated, dense buds. A terrific strain for training and she works excellently in a SCROG grow. If left untrained, expect Sour Diesel #2 to grow as tall as 10-13 ft, while expressing her 30% indica influence. Sour Diesel has an overpowering, pungent and overwhelming stench, similar to diesel and citrus. Her fragrance will have a gassy overtone and, when smoking, the flavor is earthy, peppery, spicy, citrusy and fuelly. The effects are instant, and she can keep you in a state of elevated focus and euphoria. Sour Diesel #2 is high in THC with 17-20%, so will offer users a mix of physical and cerebral effects. An excellent strain for improving focus and motivation, as well as for morning and daytime use.
Green Crack
Green Crack is a sativa-dominant hybrid which is a fast grower with high resistance to mold and pests. This lady will flower in 60-65 days, where she grows characteristic of a Christmas tree. An excellent choice for growers who require a short and compact plant which is ready to harvest by the middle of September. Green Crack is a cross between 1989 SSSC Skunk #1 and an isolated Afghani cut, meaning she has a 40% indica influence. When she grows, she will grow with hybrid vigor displaying both indica and sativa lineage. Green Crack requires a short growing period, making her a perfect choice for growers who have short to mid-range summers. Green Crack has a very exotic flavor and aroma, which could be described as a blend of pineapple, mango, lemon, cedarwood and incense. The fragrance is similar to tropical fruits with a sharp, musky edge. Green Crack is 18% THC, so will offer a compelling high that Skunk lovers will be familiar with. There will be feelings of euphoria, happiness, and creativity.
Sapphire OG
Sapphire OG originates from Kush lineage and is a cross of Florida cuts of OG Kush x OG Afghan. The result is a short flowering hybrid which takes 57-63 days to flower. Thanks to her Kush lineage, Sapphire OG can grow in colder temperatures and shows high resistance to colder environments. This lady is 85% indica dominant, so outdoors she will grow small and squat, making her excellent for Sea of Green and for beginners. Growing with short internodal spacing, this easy-to-grow strain will be ready to harvest by early September, where she can produce dense, tight buds of a large quantity. The flavor and aroma will be fuel, gassy, citrus, menthol and chocolate. Expect a musky, powerful fragrance from Sapphire OG. A potent and heavy bodied strain that is over 20% in THC, meaning she will offer a long-lasting effect that is highly therapeutic. An excellent choice for night-time smoking, as Sapphire OG is a heavy-hitter and can keep you in a narcotic haze for hours upon end.