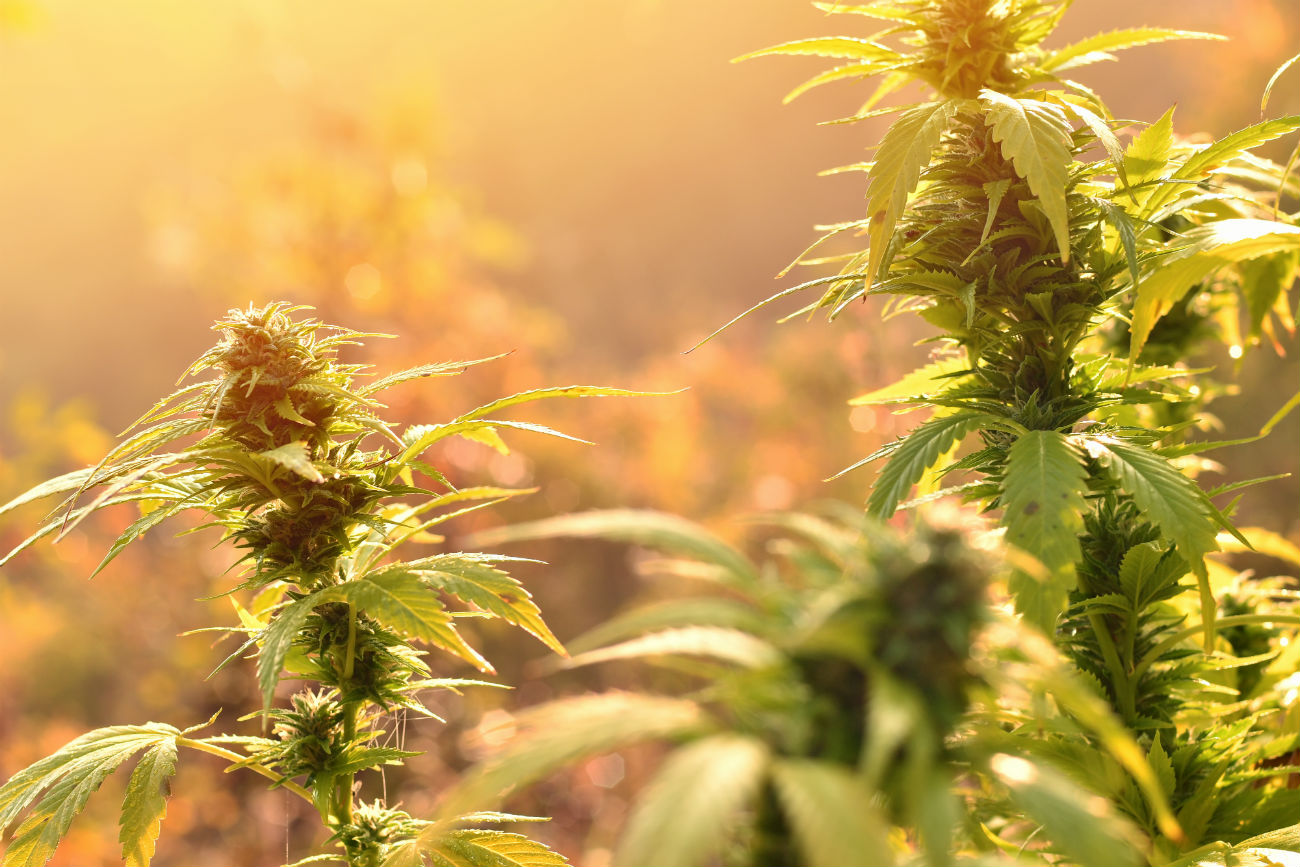 It's very important to choose the strain that best fits your tastes and needs. Here's a list of our six recommendations for this 2020 outdoor season.
Lemon Juice Express Auto
Lemon Juice Express Auto is a dream come true for Haze lovers because she's the result of a cross between the legendary Jack Herer and a Haze Auto. A marriage that combines speed with a super lemony flavor to create an Indica-dominant autoflowering strain; a really slender plant for an automatic that completes her full life cycle in just 65-70 days, which makes her suitable for short summer climates, or for those with not much time on their hands. Remember to water her frequently but lightly, and keep the soil aerated by adding 30% coco coir to your soil mix. That way you'll get to enjoy her magnificent compendium of marked aromas and flavors where lemon and pine are the main protagonists. Ideal for those wishing to savor her Haze properties without hurry. Definitely a juice worth squeezing!
Dr. Greenthumb's Dedoverde Haze Auto
If you like Sativas but you've never grown them because you're concerned that they may take too long to develop, or may stretch too high for your grow space, this strain might interest you. She'll be ready for harvest in less than 70 days, with a height that doesn't exceed 1 ½ meters. A pot or a nice spot in your garden or vegetable patch will be sufficient for Dr. Greenthumb's Dedoverde Haze Auto to display her full splendor. Planting is recommended in mid-May to make the most of the light intensity of the long summer days. Her origins (Haze Auto x Dedoverde) account for her hardy, flexible, and quite open structure, with ample internodal spacing that gives way to compact buds with an intense aroma of earthy lemon, pinewood, incense, and spices. Without too much effort she'll reward you with top-quality crops, so she's suitable for both rookies and more experienced growers wishing to enjoy her unique character.
Bubba Cheese Auto
Born from the cross between a UK Cheese Auto and the renowned Bubba Kush, Bubba Cheese Auto is a truly special autoflowering that musters the best from rainy England and sunny California. Her compact size and fir tree appearance make this strain especially suitable for grows in small terraces, or even balconies, and always in spots where she can receive the maximum number of hours of light so she can develop to her full potential. She's also a great choice for greenhouse grows as her full life cycle barely exceeds two months from germination, making this variety a perfect option for beginners who want to grow for the first time this summer with a plant that requires virtually no maintenance yet delivers heavy yields in record time. And to top it all off, she has an overwhelmingly Skunky aroma with undertones of ripe fruit and blue cheese: a fitting tribute to this fusion of legendary strains that should not be missing from any self-respecting grow. What are you waiting for? Just give her a try!
Sour Diesel Auto
Perfect for… Sativa lovers, fans of the Diesel lineage, and growers in humid climates. With this autoflowering version of one of the most popular strains of the west coast, those who've just started growing but wish to obtain a quality product can stop looking, 'cause she's exactly what they need. An airy Sativa-looking plant with ample internodes that feels at ease in extremely humid climates. Sour Diesel Auto delivers incredible foxtail-looking buds that give off an intense scent of Diesel, citrus, oil, and wood. In true Sativa spirit, Sour Diesel Auto produces a highly invigorating and cerebral effect that really affects creativity. With THC levels reaching up to 17%, this cannabis jewel grows vigorously when provided with lots of food and moderate amounts of water. In no more than 75 days from germination, she'll produce top-quality buds that are far thicker than those of any ordinary Sativa.
OG Kush Auto
Perfect for… Growers lacking space or looking for discretion, and people suffering from insomnia. The autoflowering version of the most mysterious and popular strain in the U.S. keeps the original taste intact. That oily and zesty mixture with spicy hints that drives connoisseurs crazy is still there. Her appearance is clearly Indica, that is, compact and with short internodes. That's why she's the perfect match for any urban grower lacking space, or with nosy neighbors, who wants to obtain generous crops of thick, resinous buds in no more than 75 days. As a result of her Indica genetics, users should expect a physically potent and long-lasting high with gentle cerebral invigoration. OG Kush Auto loves being outdoors, where she'll grow so quickly that her dense structure and thick buds won't run the risk of being affected by mold or fungi, as is the case with most Indica strains. An airy substrate and a standard feeding regime are highly recommended.
Blue Dream Auto
Perfect for… Growers who didn't get the chance to grow the feminized version because of living in cold climate regions. Blue Dream Auto is the strain that all cannabis lovers should cultivate at least once in their lives. That's why we couldn't squander the opportunity to make an autoflowering version of this Cali blue dream for everyone to enjoy. Why is it a must-have? For starters, Blue Dream Auto is a beautiful plant. As simple as that. Her purplish and violet hues make her a real sight to behold. And the truth is that this strain was born for greatness, to amaze us all with her bumper crops of Sativa-looking buds, her ample internodes, and her incredible scent. But not only that. Her unbeatable taste of citrus, cedar, sweet fruits and Haze is also amazing, so much so that it has earned her a well-deserved position as one of the most popular strains in the U.S. But there's something that stands out above all these extraordinary traits: her super-special effect; a cerebral high that, far from creating a sense of paranoia, makes you feel extremely sociable. A nice feeling of alertness to enjoy a music concert like never before. Blue Dream Auto is happy outdoors, provided the climate is warm and nutrients arrive in large quantities. An airy substrate and a sparse but frequent watering regime will help this jewel thrive.